Early Bird
MSU Denver honored by Denver Scholarship Foundation
Learn why the University was named 2019 College Partner of the Year.
May 30, 2019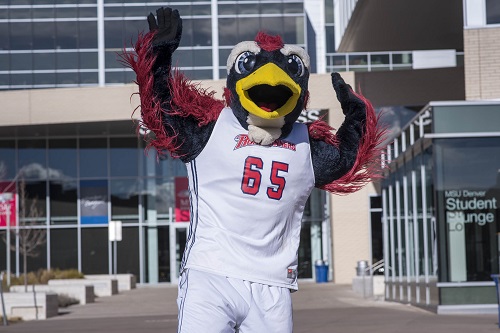 It's time to add another award to Metropolitan State University of Denver's ever-expanding list of accolades. This month, the University was named the 2019 Denver Scholarship Foundation College Partner of the Year. Lauren Koppel, assistant director of scholarship support and retention within the Student Academic Success Center, explained why the award is particularly meaningful for many MSU Denver staff.
"The Denver Scholarship Foundation has a small team of campus advisors that supports DSF scholars at MSU Denver through the Colorado Opportunity Scholarship Initiative Community Partner Program Grant," Koppel said. "This is an especially exciting award as it is selected by those program staff who work with MSU Denver in support of the DSF Scholars enrolling in, persisting in and completing college. It is a reflection of our collective work."
MSU Denver staff from across campus collaborate with DSF campus advisors in various capacities to execute the partnership and to support shared goals. This includes staff within Admissions; Roadways; Financial Aid and Scholarships; Business Intelligence; Strategy, Marketing and Communications; the Center for Equity and Student Achievement; Alumni Relations; and more. This Universitywide effort has helped MSU Denver support the highest number of DSF scholars for the past two years (328 in 2017-18; 382 in 2018-19).
DSF nominators noted that, as a partner with the DSF for the COSI Community Partner Program, MSU Denver has fully embraced the organization's campus advisors. The nomination noted that MSU Denver staff have "given generously of their time and resources to supporting onboarding, continued training and integration of our team into their larger scholar community."
MSU Denver financial-aid staff also received commendation from the DSF team for supporting DSF Scholars through individualized help, excellent responsiveness to DSF reporting requests and a demonstrated commitment to collaborative efforts to improve all aspects of the partnership through brainstorming, feedback and problem-solving.
Finally, the DSF applauded the growth and success of the Denver Scholarship Foundation MSU Denver Leadership Program. The scholar-driven leadership and community-development program allows students to tell their stories, create community, plan events, coordinate Alternative Break trips and build scholar communities.
For Koppel, the feeling is mutual, as the organization provides invaluable support to its scholars here on campus, while also expanding opportunities for all students.
"The work of the Denver Scholarship Foundation extends beyond the proactive coaching, resource referrals and other support provided to scholars," Koppel added. "The DSF has collaborated with the MSU Denver Office of Financial Aid and Scholarships to offer scholarship and FAFSA/DAIA workshops open to the entire campus community."
MSU Denver will receive the award at the Denver Scholarship Foundation Graduation celebration at City Park Pavilion on Tuesday. Learn more about the DSF and the COSI Community Partner Program.
Edit this page