Early Bird
Top 10 reasons for your students to take summer classes
It's not too late for students to sign up for courses that start June 10. Here's why it's a smart way to make their summer sizzle.
May 8, 2019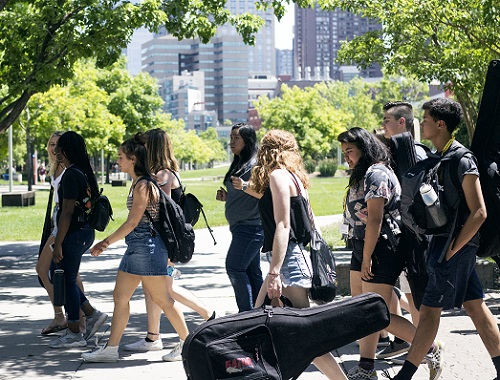 The grills are firing up, the beach balls are getting inflated, and graduation is almost upon us. But before we bid goodbye to the spring semester, there are a lot of good reasons to keep the matriculation momentum rising along with the temperature. And since we're all about the increasing degrees, here's why encouraging students to sign up for classes this upcoming summer semester is the smart call:
10. Flexible options: With various start times rolling over the summer semester, students can fit in that vacation and still benefit from taking classes.
9. Smaller classes: Fewer folks on campus means more one-on-one time between students and faculty members, fostering an even greater learning opportunity.
8. Graduation acceleration: It's simple – taking summer classes gets students that much closer to their diploma.
7. Greater availability: High-demand classes that fill up fast for fall don't have the same crush during the summer semester.
6. Condensed courses: Students can receive credit in eight weeks or less, keeping continuously engaged with the content they're studying.
5. Visiting options: Those folks who are home for the summer from other universities can take courses at Metropolitan State University of Denver and transfer back to their home institutions. And while they'll need to confirm with those schools the course transferability, it's a little easier thanks to…
4. GT Pathways: The program from the Colorado Department of Higher Education helps guarantee that general-studies courses are foundational at institutions across the state.
3. Pell eligibility: Thanks to an expansion reinstated in the 2017-18 academic year, the program makes grant resources available to students throughout the aid year; previously, most full-time qualifying recipients could receive the grants only for fall and spring semesters.
2. Online study: The beach? Coffee shop? Sandwich store? With more than 300 courses available online, the classroom for students can be anywhere with a Wi-Fi connection.

And the No. 1 reason for students to enroll in summer classes this year…
1. Another chance to get Rowdy: Follow in our feathered friend's size-20 footsteps and have fun in the campus sun! Just don't forget the sunscreen.
Topics: Academics
Edit this page