Early Bird
Don't miss today's Strategic Enrollment Management Framework Data Series presentation
At 2:30 p.m. in the CAVEA, learn about 'The Effect of Admissions Standards on the Retention of High School Students.'
May 8, 2019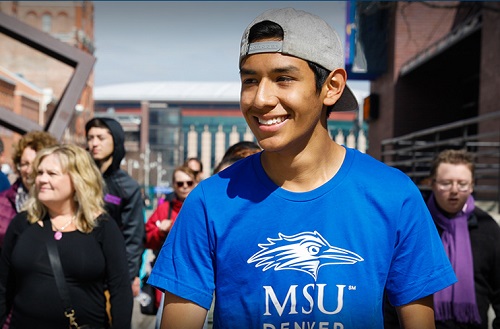 The next presentation in the Strategic Enrollment Management Framework Data Series is today from 2:30-3:30 p.m. in the CAVEA.
The presentation, "The Effect of Admissions Standards on the Retention on High School Students," will focus on key data elements that have helped shed light on student success and retention.
Over the past several years, the State of Colorado has made changes to admissions requirements, which phased out the admission index and gave the Metropolitan State University of Denver Office of Admissions more latitude over how students are admitted to the University. Admissions staff collaborated with Office of Enrollment Management staff to do a "deep dive" into MSU Denver's high school student population to understand better which admission criteria influence student success and retention within students' first year.
Based on the analysis, the Office of Admissions was able to adjust the application-review process to focus more consistently on metrics, which garnered student success. Further, the analysis helped to pinpoint key data elements captured through admissions, which serve as potential markers of student retention. Overall, the analysis helped inform a larger transformation to a data-guided process, which the Office of Admissions hopes to share with additional campus partners in its work to promote student success at MSU Denver.
Presenters include:
Vaughn Toland, M.A., executive director, Admissions and Outreach
Morgan Raleigh, director, Recruitment
Mark Baccei, Ph.D., enrollment-management research analyst
For presentation information, please contact Baccei at mbaccei@msudenver.edu.
Topics: Events
Edit this page