Early Bird
In Memoriam
Remembering Roadrunner and MLK Peace Award winner Rev. Tammy Garrett-Williams.
April 8, 2019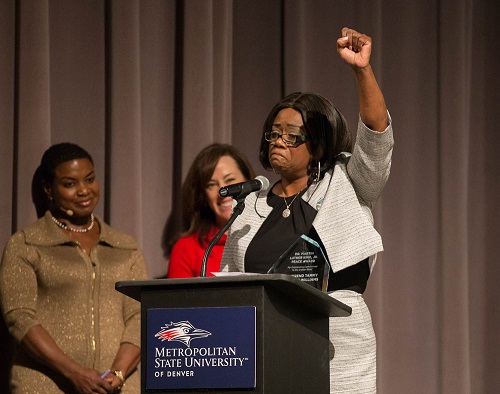 Metropolitan State University of Denver graduate Rev. Tammy Garrett-Williams died last week. Garrett-Williams – author, senior pastor at Transformed Ministries and founder of Above Waters Project – was a civil-rights activist and a 2019 recipient of the Martin Luther King Jr. Peace Award. In her acceptance speech, Garrett-Williams reflected, "Now I understand Dr. King's dream, and his dream is mine. As he asked, 'What are you doing for others?' My answer is: I will continue to fight for social justice."
Members of the MSU Denver community are invited to remember Garrett-Williams at a memorial service on April 16 at Emmanuel Gallery from 2-3 p.m.
Garrett-Williams was a criminal-justice and Africana-studies double major at MSU Denver. She used her education and passion to serve the Denver community and fight for the rights of marginalized people. She founded the nonprofit Above Waters Project to serve people returning to society from incarceration through community corrections and authored the book "Invisible Handcuffs" about the struggles of reintegrating into society from incarceration.
As a community leader, her influence was wide. She championed the rights of people to have nonviolent criminal records expunged, as well as the right to health care for former inmates. She was honored by Colorado Black Women for Political Action, the NAACP, the Colorado Black Legislative Caucus and the Colorado Black Round Table. And her tireless work with Black Lives Matter and Transformed Ministries had a tremendous impact on countless lives.
Garrett-Williams was 50 years old and is survived by her mother, two sons and a grandchild.
Edit this page