Early Bird
Buy a piano. Support student scholarships.
Schedule an appointment or stop by the public sale happening next weekend in the Arts building.
April 4, 2019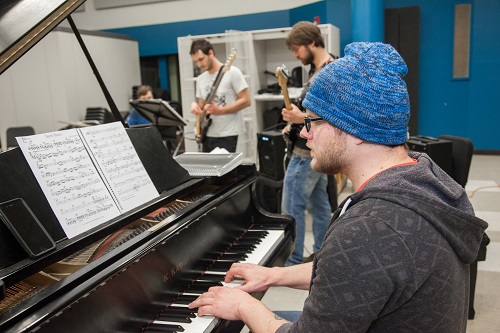 Want to finally learn how to play the piano while helping Metropolitan State University of Denver music students succeed? Here's your chance.
Through a partnership with the Rockley Family Foundation, a nonprofit music-education organization, the MSU Denver Department of Music has had the use of new first-class pianos on a no-cost basis for the 2018-19 academic year. Now, those pianos are being sold to help keep the music going.
A large selection including grands, baby grands, digital pianos and keyboards, along with stringed instruments (violins, violas, cellos and basses) will be available for purchase. Most instruments are less than a year old, are tuned and include a factory warranty; delivery and no-interest financing are also available on-site.
And if that wasn't enough incentive, a substantial portion of your purchase is considered a charitable contribution to the Rockley Family Foundation and may be tax-deductible.
If interested, call 303-921-5829 to schedule a presale appointment from April 12 to the morning of April 14. The public sale is open April 14 from 2-5 p.m.
All sales occur on the second floor of the Arts Building.
Topics: Events
Edit this page