Early Bird
AES strikes gold
MSU Denver continues to put its environmental values into action.
April 3, 2019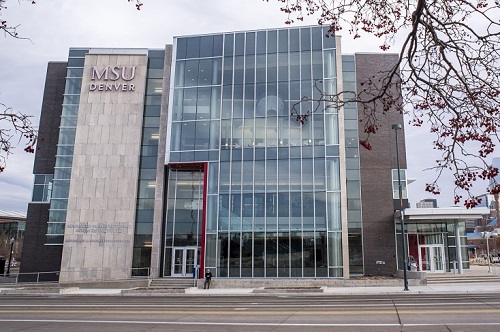 The third time isn't necessarily the charm, but in this case it certainly is impressive.
Metropolitan State University of Denver and Anderson Mason Dale Architects have announced that the Aerospace and Engineering Sciences Building on the MSU Denver campus has been awarded LEED Gold certification from the U.S. Green Building Council, joining two other campus structures. LEED, which stands for Leadership in Energy and Environmental Design, is the foremost program for buildings, homes and communities that are designed, constructed, maintained and operated for improved environmental and human-health performance.
"I am pleased to see our sustainability efforts recognized, especially in advance of Earth Month," said Tina Wells, former MSU Denver Facilities Planning and Space Management director. "This construction represents a perfect blend of meeting the needs of our students and bringing awareness to Earth-friendly practices."
MSU Denver has demonstrated leadership in energy and environmental design on campus as two other facilities have earned the LEED Gold standard – the Hospitality Learning Center and the Jordan Student Success Building, both in 2012.
"This latest LEED certification adds to MSU Denver's growing legacy as a sustainable campus and development leader," Wells said.
The AES Building was designed to support the aerospace industry's workforce needs and prepare students for the high-demand technical and manufacturing jobs available in the Colorado economy. The 118,000-square-foot AES Building, at the corner of 7th and Auraria Parkway, was built by Gerald H. Phipps Inc. and opened in 2017. The majority of the building features specialized laboratories, with the remainder of the space dedicated equally to classrooms, offices and support spaces.
MSU Denver achieved LEED Gold certification for implementing practical and measurable strategies and solutions aimed at achieving high performance in sustainable site development, water savings, energy efficiency, materials selection and indoor environmental quality. Notable features include:
Evaporative cooling: An ideal strategy in Colorado's dry climate, cold water is introduced directly into the airstream at the air-handling unit to cool air, reducing chilled-water use and saving equipment power.
Water-use reduction: Low-flow toilets, lavatories, faucets and showers save water with every use, and water-efficient plantings appear in the landscaping.
Fritted glass: Patterning on the glass controls solar energy entering the building.
LED light fixtures: This lighting technology uses less energy than incandescent fixtures and does not need to be replaced as often.
Efficient and smart heating, ventilation and air-conditioning systems constantly self-monitor components, decreasing energy waste.
More than 95 percent of the wood in the building is Forest Stewardship Council Certified, meaning that products come from responsibly managed forests that provide environmental, social and economic benefits.
Light-colored roofing materials, ample planting and light-colored concrete paving help reduce the "heat island effect," a common phenomenon in urban environments with an abundance of dark-colored surfaces such as asphalt, by reflecting solar energy as opposed to absorbing and slowly releasing it.
Outdoor-air ventilation rates are at least 30 percent above the code-mandated standards.
Plaques providing complete information on these features are located at the southwest entrance of the AES Building near the Forum.
"Achieving LEED certification is more than implementing sustainable practices. It represents a commitment to making the world a better place and influencing others to do better," said Mahesh Ramanujam, president and CEO of the USGBC. "Given the extraordinary importance of climate protection and the central role of the building industry in that effort, MSU Denver demonstrates their leadership throughout their LEED certification. Each new LEED certification is one step closer to revolutionizing the environment in which we live, work and play."
Edit this page