Early Bird
Sign up today to volunteer for commencement
Join the Alumni Association in recognizing and celebrating spring graduates.
April 23, 2019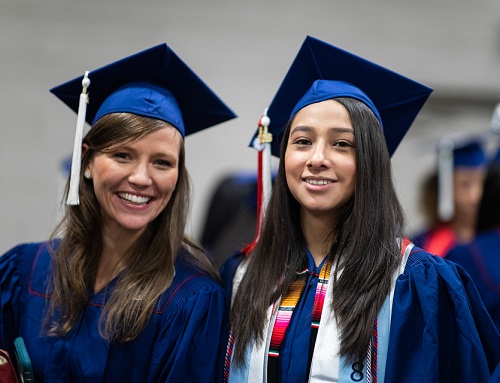 The Metropolitan State University of Denver Alumni Association is looking for proud Roadrunners to volunteer for spring commencement.
Several volunteer roles are available, including General Guest Assistance/Way-Finders, ADA/Special Seating Ushers and Program Distribution. Volunteers receive a catered breakfast and/or lunch and an MSU Denver T-shirt. Choose your preferred assignment when you register.
If you are unable to volunteer at commencement but still want to help out, sign up to prepare diplomas to be mailed to new graduates. Dates and times are based on your availability. The Registrar's Office will contact you directly to schedule a date and time.
Spring 2019 Commencement
May 17
Denver Coliseum, 1600 Humboldt St., Denver, CO 80126
Morning Commencement, 7-11 a.m.
Afternoon Commencement, 1-5 p.m.
For more information, contact Brandi Rideout, director of alumni relations.
Topics: Academics, Events
Edit this page