Early Bird
"For Colored Girls Who Have Considered Politics"
RSVP for President's Speaker Series event featuring Donna Brazile and co-authors discussing political empowerment.
April 23, 2019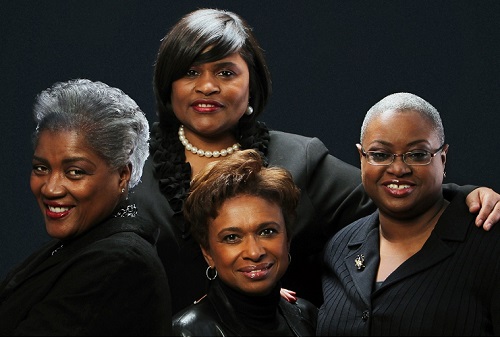 How do we center historically underrepresented voices in government and policymaking? And what can we learn from experts with more than three decades of experience on the national stage?
Renowned political strategist and media personality Donna Brazile joins the co-authors of "For Colored Girls who have Considered Politics," Yolanda Caraway, Leah Daughtry and Minyon Moore, to share insight into "hurrying history" as four of the most powerful African American women in the political sphere. Together, the group has worked on presidential campaigns for Barack Obama, Bill Clinton, Hillary Rodham Clinton and Al Gore, among others.
Metropolitan State University of Denver President Janine Davidson, Ph.D., will moderate the event, part of the ongoing President's Speaker Series which has also brought former President of Mexico Vicente Fox, Vice Chairman of the Federal Deposit Insurance Corporation Thomas Hoenig, Ph.D., and author Emerson Brookings to the MSU Denver campus. Event partners include former Denver mayor Wellington Webb and former state representative Wilma Webb, and Colorado Black Women for Political Action.
Thursday, May 2

St. Cajetan's?

10-11 a.m.: Book discussion

11 a.m.-Noon: Book signing
The event is free and open to all, but RSVP is required. Please have students register at this link; faculty/staff and community members should sign up here.
Books can be purchased in advance at the registration links above or at the event.
Topics: Events
Edit this page