Early Bird
Strategic Plan Launch and Learn series
Campus community invited to attend April 15 presentation by state demographer that will inform strategic-planning efforts.
April 1, 2019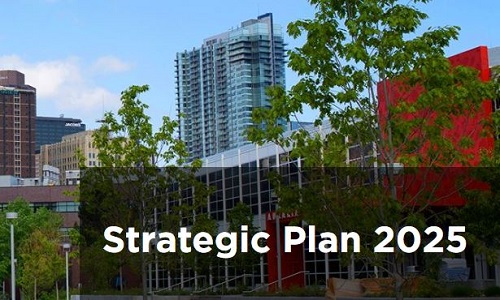 Faculty, staff and students are invited to a Strategic Plan Launch and Learn event with State Demographer Elizabeth Garner on April 15 from noon-1 p.m. in the CAVEA. Garner will share the latest in demographic trends and projections for Colorado, as well as answer questions. Please RSVP by April 10 to ensure that we can accommodate everyone who wants to attend. Light refreshments will be available.
This Launch and Learn event is the first in a monthly series that will feature experts on topics connected to Metropolitan State University of Denver's strategic-planning efforts. The sessions are open to all members of the University community and intended to help gather information and generate ideas as well as provide a forum to engage with one another on issues pertinent to the future of our institution.
The series is a vital component of Phase II (Data Gathering and Engagement) of the Strategic Plan 2025 initiative. That phase began with the announcement of the Strategic Planning Team in March and runs through July, with the primary objective being to gather data, ideas and thoughts from as many MSU Denver community members as possible. As a reminder, you can always share your feedback on this event, or the strategic-planning process in general, via the form on the Strategic Plan 2025 website.
If you have any questions, please contact Johanna Snow by email at snowj@msudenver.edu.
Topics: Strategic Planning
Edit this page