Early Bird
Building on success, Roadways continues to expand
The program shares great engagement and retention numbers and looks to hire more peer mentors.
March 25, 2019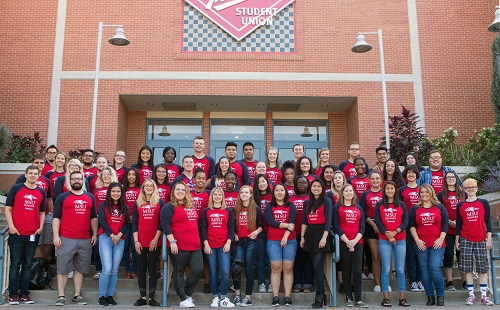 Thanks to the one-time funding announced in October, Roadways continues to grow its successful Peer Mentoring Program. Expanding the program's reach and capacity will allow staff to better (and more intersectionally) meet the needs of all Metropolitan State University of Denver students from arrival through graduation.
The Peer Mentoring Program now includes 66 general-population peer mentors, 14 transfer peer mentors and 10 mentors dedicated to high school outreach. Mentors' weekly emails, phone calls, events and face-to-face interactions are having a great impact on participating students. Based on qualitative surveys, event data and academic/demographic data of participants (and the peer mentors themselves), the program has reached a broad and diverse swath of the MSU Denver student population.
The average age of program participants was 23.
Sixty-one percent identified as female, and 39 percent identified as male.
Forty percent identified as Hispanic, 35 percent identified as white, 10 percent identified as African American, and the remaining 15 percent identified as a mix of other categories.
Forty-two percent of participants were freshmen, 22 percent were sophomores, 22 percent were juniors, and 15 percent were seniors.
The program's impact on retention rates is also exciting. On average, even students whose participation was limited to organized events were retained at a rate of 85.2 percent from fall 2018 to spring 2019. Students who also interacted with their peer mentor via emails, face-to-face conversations and more retained at a rate of 93.8 percent over the same period. The most engaged students also enrolled in a higher number of credits for this spring than those whose engagement was less robust.
"Peer mentors themselves also attempt and earn more credits on average than participants, reinforcing the best practice of campus employment as an avenue for increasing the likelihood of student success," said Camelia Naranjo, assistant director of peer mentoring. "Ninety-six percent of the peer mentors re-registered for the spring 2019 semester."
This semester, Roadways will continue its work to diversify the Peer Mentoring Program staff and to reach an even more diverse population of students. If you know a student who would be a great fit for the program, encourage them to join the Peer Mentoring team or connect with its services. All candidates should be dedicated to promoting practices and philosophies of inclusive excellence that foster equity in access and outcomes.
To learn more about the Roadways Peer Mentoring Program, contact Naranjo, and encourage prospective peer mentors to apply online by April 8.
Edit this page