Early Bird
Announcing the 2025 Strategic Planning Team
The campus community is invited to an April 15 informational session to learn more about the process and what's to come.
March 21, 2019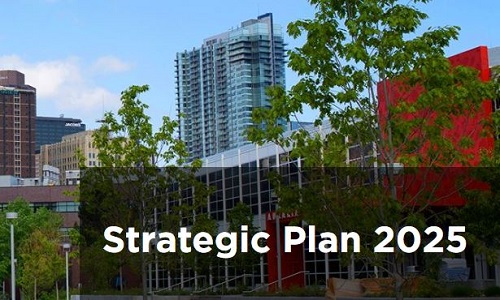 Phase II of the Strategic Plan 2025 process will officially kick off April 5 with the first meeting of the Strategic Planning Team. Members were carefully selected from a large pool of highly qualified and energized applicants and nominees. Selected for their diverse talent, knowledge and experience, members will produce goals and objectives that will guide Metropolitan State University of Denver in becoming the nation's model urban university.
The group will be co-chaired by Cathy Lucas, chief of staff and vice president of strategy, and Matt Makley, professor of history and president of the Faculty Senate. Faculty, staff, administrators, students and alumni members include:
Adrienne Martinez, executive director of College-to-Career Initiatives
Connie Sanders, interim registrar
Kat Martinez, interim director/department chair, Gender Institute for Teaching and Advocacy
Dan Lair, associate professor, Communication Arts and Sciences
Deborah Wilcox, assistant professor, Health Professions
Scott Kerkmans, instructor and Beer Industry Program director, Hospitality, Events and Tourism
Tony Nunez, assistant professor, Human Performance and Sport
Su-Jane Chen, professor, Finance
Susan Barnd, professor, School of Education
Angela Marquez, special assistant to the president for diversity
Cecily Cullen, managing director and curator, Center for Visual Art
Sarah Harman, executive director, University Effectiveness
Edward Zarate, graduation evaluator, Registrar
Lee Crawford, Desktop Support Liaison Team lead, Information Technology Services
Adetilewa Awosanya, Student Advisory Committee to the Auraria Board, Student Government Assembly representative
Sofiya Lushchyk, student representative
Jamie Hurst, assistant vice president of Strategic Engagement, University Advancement
Evan Bowles, business analyst, president, Council of Administrators
Liz Hinde, professor and founding dean, School of Education
George Middlemist, associate vice president for Administration/CFO interim vice president for Administration
Kim Starr, Strategic Planning and Financial Analysis manager
Anthony Grant, director, Athletics
Amy Bechtum, associate director and liaison, College of Business
The group will be supported by Strategy Project Manager Johanna Snow, Associate Vice President of Strategic Communications Dan Vaccaro and American Council on Education Fellow and volunteer Joe Foster.
To ensure collaboration and transparency, the group will seek to engage 4,000 to 5,000 internal and external stakeholders throughout the 18-month process. Following the group's first meeting, the campus community is invited to learn more by attending a brown-bag session April 15. That meeting will feature insights from representatives from the Colorado State Demography Office. The meetings will also help mark the second phase in a six-phase planning process that includes:
1) Getting organized (January-March)
2) Data gathering and engagement (April-July)
3) Making sense of the issues (August-October)
4) Vision building (November-December)
5) Goals building (January-March 2020)
6) Strategic implementation (April-June 2020)
Strategic Plan 2025 will go into effect July 1, 2020. The Early Bird will be the primary means of communication for this process, so stay tuned for regular updates.
Topics: Strategic Planning
Edit this page