Early Bird
Framing MSU Denver enrollment with data and strategy
SEM framework, data presentations to engage campus in recruitment/retention efforts.
March 21, 2019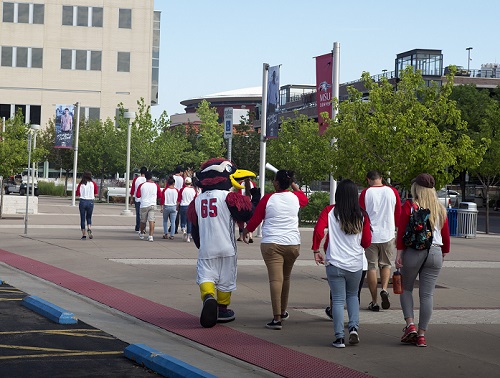 A new series of data presentations seeks to increase awareness of a new Strategic Enrollment Management framework approved in September that is driving the University's recruitment and retention efforts. The SEM framework and presentations aim to engage campus partners in the recruitment and retention processes as well as educate them about the trends that affect the University's past, present and future enrollment numbers.
"We hope to increase awareness of postsecondary educational trends in Colorado and how they relate to the enrollment struggles the University has experienced recently — and how we can better strategize to recruit and retain students so our overall enrollment trends go in a different direction," said Michael Nguyen, director of enrollment-management systems and operations.
The Strategic Enrollment Management framework was approved last September by the Executive Council, led by Provost Vicki Golich, Ph.D., with hopes of generating a culture of shared responsibility for recruitment and retention. Implementation of the five-part framework began in January and already includes participation of more than 40 people from across campus in the following groups:
Executive Council, meets quarterly
Steering Committee, meets monthly
Recruitment Council, meets every two weeks
Retention Council, meets every two weeks
Data Team, meets every two weeks
The first data presentation, scheduled from 1-2 p.m. on Tuesday in the CAVEA, will focus on high school graduate projections, nationwide and in Colorado.
"The number of high school graduates is expected to increase through 2025 but then sharply decline through 2032 due to birthrate projections," Nguyen said.
He said while Colorado's numbers look slightly better than the nationwide average, that too is a cause for concern since other states are sending permanent recruiters here to take advantage of those elevated numbers.
"Six or seven years ago, we might have seen five colleges with out-of-state recruiters stationed here, but that number has grown to more than 40, which highlights the competitive nature of college recruiting," Nguyen said.
Metropolitan State University of Denver has engaged in limited out-of-state recruiting over the past decade, resulting in a student population that is 96 percent resident and 4 percent nonresident, with the majority of students coming from the seven-county metropolitan area.
Subsequent presentations will be announced in the Early Bird. Future topics will include high school student retention, nonretained-student analysis (why did they leave? where did they go?), financial-aid optimization and survey results from nonmatriculating students (why didn't they choose us?), as well as an analysis of D, F and W grades and how they affect retention. Results from additional surveys of MSU Denver graduates and from current students regarding the campus experience will inform the University's recruitment and retention efforts as well.
For more information on the SEM framework or the presentations, contact Nguyen at mnguye31@msudenver.edu.
Topics: Strategic Planning
Edit this page