Early Bird
MSU Denver reaffirms commitment to NCAA Division II athletics
On Monday, Trustees heard arguments for remaining in the Rocky Mountain Athletic Conference or transitioning to the Western Athletic Conference.
March 18, 2019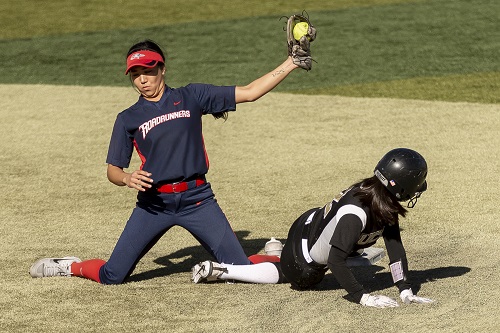 The Metropolitan State University of Denver Board of Trustees decided Friday by electronic vote that the institution will remain in NCAA Division II and the Rocky Mountain Athletic Conference rather than pursue a potential move to NCAA Division I's Western Athletic Conference.
Board members had met Monday in a special work session to hear presentations and ask questions about the pros and cons of a potential move. The Board wasn't scheduled to meet again until May but decided to hold an electronic vote after considering the results of the special session.
The WAC first asked MSU Denver Athletics to consider potential Division I membership this past fall. The inquiry prompted the University Athletics Department to conduct a feasibility study to examine a potential move to Division I and to evaluate its current status in Division II.
Presenting to the Board on Monday were Jeff Hurd, commissioner of the WAC; Brian Mueller, CEO of Grand Canyon University and the chairman of the WAC Board of Directors; Chris Graham, commissioner of the RMAC; Tim Selgo, Division II consultant and former athletic director of Grand Valley State; Russell Wright of Collegiate Consultants; and George Middlemist, MSU Denver's interim vice president of Finance and Administration.
Hurd and Mueller discussed the benefits of transitioning to Division I, while Graham and Selgo discussed the benefits of remaining in the RMAC and Division II. Wright presented his feasibility study, which included an analysis of MSU Denver athletics compared with WAC programs as well as other RMAC and Division II institutions. Wright detailed revenue and expense projections for each option. Middlemist presented on the financial impacts of a possible transition.
The NCAA requires a one-time, $1.7 million fee to make the transition to Division I.
Wright projected that an increase of $4.5 million to the Athletics Department budget by 2024-25 would be needed to fund programs similar to the midpoint of other WAC schools.
He said MSU Denver ranks seventh among RMAC schools in operating budgets (fourth when institutional-support dollars are included). He reported that increasing that athletics budget by about $1.5 million would put it in alignment with the Director's Cup Top 25, the most successful programs in Division II.
Hurd's presentation on the argument for Division I included elevated exposure for the University, elevated stature locally and regionally, increased revenue from NCAA distributions, elevated branding opportunities, more engaged booster and alumni involvement, and the potential for enrollment increases.
Mueller's support for joining the WAC included the fact that five members of the league have transitioned from Division II, that joining the WAC now is MSU Denver's best opportunity to make the transition, that the WAC is a fit for MSU Denver because it offers championships in all 16 of the institution's sports and that the league is geographically, culturally and institutionally diverse.
Graham made the case for the RMAC based on the missions of Division II vs. Division I, which include stating the emphasis on the well-being and academic success of student-athletes, a balanced experience and an inclusive culture. Surveys have shown that Division II student-athletes spend less time on athletics and have more positive experiences than do those in Division I, Graham noted.
Selgo cited continued diminished funding support for public institutions from state legislatures and determining whether achieving a goal such as reaching the NCAA Tournament in men's basketball was worth the financial impact and risk, particularly because of the potential for losing more often in all sports.
The RMAC's Graham noted that the goal of student-athletes was to play in postseason national tournaments and that the opportunity to do so in Division II was far greater than in Divisions I or III. Conversely, Grand Canyon's Mueller said that when his school transitioned from Division II to Division I as a WAC member, the overwhelming majority of student-athletes on that campus said they preferred to compete as Division I athletes more so than Division II.
Wright's study detailed that transitioning to Division I would include increased revenue as well as increased expenses.
Among other ways to raise the required revenue to maintain Division I status would be increasing the current student athletic fee, essentially doubling it.
Wright compared the revenues and expenditures of current members of the WAC (which includes California Baptist, Cal State-Bakersfield, Chicago State, Grand Canyon, Missouri-Kansas City, New Mexico State, Seattle, Texas-Rio Grande Valley and Utah Valley) with budgets and expenses at MSU Denver and projected how much more the Roadrunners' athletic program would need financially to be competitive athletically.
The WAC lineup will change soon, with Dixie State moving up from the RMAC to join the league and replace Cal State-Bakersfield, which is moving to the Big West Conference for geographic purposes.
Besides raising NCAA revenues, student fees and fundraising, other options for revenue generation include ticket revenue (though Wright is conservative about the potential for MSU Denver) and playing guarantee games. These games (he recommends four to six annually for men's basketball and three to five for women's basketball) are road games against "big-name" schools that typically offer more than $100,000 for opponents to play.
The WAC acknowledged that it was nearly forced out of existence less than 10 years ago when conference realignment throughout college athletics left it short, primarily because of football programs leaving the conference. The WAC remade itself as a league focused on men's basketball and is proud of its rise from 31st of 32 Division I conferences in RPI (a measure of the league's overall strength) to "as high as No. 12" recently. This year, the league is at No. 15, according to realtimerpi.com, as of Monday.
There have been success stories such as Grand Canyon and Utah Valley, but UMKC and Chicago State have seen little to no success as Division I athletic institutions. Those supporting the move to Division I for MSU Denver cite the success stories; those supporting the other side cite the institutions that have struggled.
Topics: Board of Trustees
Edit this page