Early Bird
Hip-hop pedagogy
Thirsty for a Strong Instructional Practice?
February 7, 2019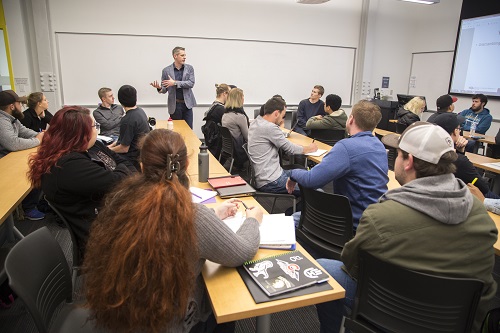 Academic culture has historically been shaped by white values. At an institution such as Metropolitan State University of Denver, an urban school that attracts a diverse and heavily nontraditional population, finding ways to help students connect with and feel validated by academic culture can be challenging. However, as the U.S. population shifts away from a white majority and becomes more inclusive and appreciative of difference, we need to find avenues for all students to engage with our course content and feel they have a voice in our disciplinary conversations. Cultivating a sense of belonging for all students is a key contributor to retention and graduation (Hurtado and Carter 1997; Museus and Maramba 2011; Nunez 2009).
Take a SIP of this: Hip-hop pedagogy
Hip-hop pedagogy began in K-12 classrooms as a way to engage urban students from historically underserved populations. Many instructors who practice hip-hop pedagogy use rap music and lyrics in their classrooms, but that is certainly not required. The principles of hip-hop pedagogy can be used in any classroom at any level, with or without the use of musical components. Hip-hop pedagogy integrates into teaching the principles of hip-hop culture, such as collaboration, interests in activism and social justice, and respect for lived experience. Adjapong and Emdin (2015) explain that hip-hop pedagogy "addresses the need to meet students on their cultural turf by engaging them in teaching practices that are anchored in the realities of young people."
Hip-hop pedagogy is fundamentally respectful of the expertise students bring to the classroom. It focuses on difference rather than deficit, giving students opportunities to use and build on their expertise to improve teaching and learning. It is also highly participatory, building structures into the classroom to give students authority and a voice in designing classroom activities and assignments. Hip-hop pedagogy assumes that students' home cultures are rich rather than impoverished.
Hip-hop pedagogy aims to use that rich home culture to engage students in academia. Scholar Louie F. Rodriguez (2009) explains that:
"Hip-hop culture has historically served as a vehicle for Latina/o and black youth to share their stories using their own voices, to be able to create and identify with a particular cultural group, and has operated as a means to communicate their existence to the world." (p. 21)
Building on the idea that hip-hop culture is a vehicle for underserved populations to make their voices heard, hip-hop pedagogy actively looks for ways to empower underserved populations in classroom conversations and activities.
Here are some ways to introduce hip-hop pedagogy into your teaching this semester:
Explore ways to use authentic dialogue in your class. Authentic dialogue is different from typical class discussions in which the instructor poses a question they already know the answer to. In authentic dialogue, the instructor asks questions they don't already know the answer to. For example, in a marketing class, the instructor could ask students to talk about advertising campaigns that have resonated with them. In a hospitality class, the instructor could engage students in discussion of their experiences with food deserts. The difference between how these discussions would go in a typical classroom is that the instructor is not telling students about advertising campaigns or food deserts but rather asking students to share their lived experiences with advertising campaigns and food deserts. A welcome bonus to this strategy is that the pressure on us to find the perfect example is relieved – delegate that to your students!
Respect and draw upon what students already know about your subject matter. In a physics class, for instance, students may not know the theories the course covers, but they do know, through observation and lived experience, about momentum and inertia. Meet them where they are, and show them that those experiences they've had with momentum and inertia are a kind of informal empirical research.
To get authentic feedback on your teaching in a timely and actionable manner, try implementing what Christopher Emdin (2016) calls a "co-gen," short for co-generative dialogue. The co-gen involves a small handful of students staying after class to chat informally with the instructor about their perspectives on how things are going in the class. Class members rotate on and off so that over the course of a semester, every student participates and the instructor is able to make meaningful changes to how they deliver content and engage students in the course. This is a powerful way to build Universal Design for Learning practices into your teaching because it gives you regular access to students' firsthand experiences of your teaching.
Shift your perspective. Rather than assuming that students need to assimilate to academic culture, notice the ways that academic culture is being and has already been shaped and enriched by new voices. Teachers such as Paulo Freire in the literacy field, Bell Hooks in the humanities and Emdin in the sciences have been pushing back against the notion that students from underserved populations have deficits that need to be filled.
Still thirsty? Take another SIP of hip-hop pedagogy
Visit the Well at for more great ideas and resources for Strong Instructional Practices in your higher-education classroom!
Edit this page