Early Bird
MSU Denver invites students to "Build Something Cool"
Center for Advanced STEM Education welcomes middle- and high-school students to campus Feb. 23.
February 7, 2019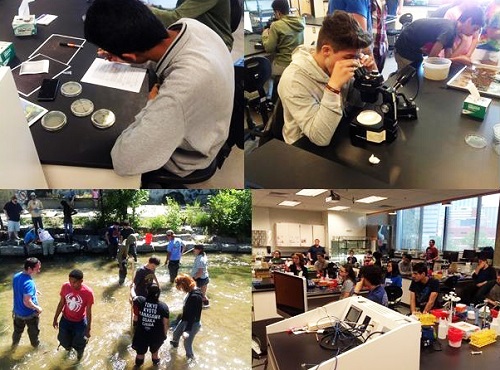 The Center for Advanced STEM Education is building partnerships in the community by inviting students to "Build Something Cool." The event welcomes metro Denver students in grades 6-12 to visit campus for a day of fun, hands-on, STEM-focused learning — and faculty and staff families are welcome.
"Build Something Cool" seeks to engage local students, and especially minority students, by introducing them to a university campus and potential engineering careers. The event also helps elevate interest in the Center's summer science programs. Faculty and staff are welcome to volunteer. Opportunities are available to help with sign-in, logistics, leading STEM activity tables, guiding students through their electronics projects and more.
The Feb. 23 event runs from 10 a.m. to 3 p.m. in Science Building 2005. Kids and their parents can drop in anytime throughout the day to build projects and chat with Institute of Electrical and Electronics Engineers members and Metropolitan State University of Denver faculty members. All projects offered are free to build and keep, and lunch will be provided. Students must register and select their project by Feb. 16.
"MSU Denver has seen a steady rise in STEM program enrollment in recent years, and especially among students of color," said Hsiu-Ping Liu, Ph.D., director of the Center for Advanced STEM Education. "Events like these not only help inspire a love of the STEM fields in all students, but they're a great way to showcase the opportunities MSU Denver offers — and to keep building those key community partnerships."
In addition to other activities such as math games and making glow-in-the-dark slime, students can choose from nine electronics projects rated easy (such as building a blinking LED bug) through difficult (such as a battery-powered USB charger). The event is supported in part by the IEEE and co-organized by Walt Burns, affiliate professor of electrical engineering technology.
The event is one of several ways the Center is reaching out to interested students and potential Roadrunners. A March 16 event called "Discover STEM" will welcome all elementary through high school students, and the Center also offers an annual Summer Science Institute and Summer Science Scholar programs.
Edit this page