Early Bird
Fill your February with philosophy and more
D-phi hosts a number of events this month tackling social media, fake news, faith, fidelity, theater and film.
February 4, 2019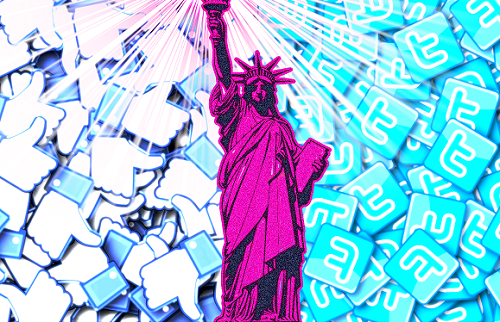 The Denver Project for Humanistic Inquiry — in partnership with the Denver Center for the Performing Arts, the Sie Film Center and the Buntport Theater — is offering fascinating events across the city and across disciplines. Faculty members are encouraged to share these events with students or bring their classes.
iNation: Democracy in the Era of Social Media & Fake News
Feb. 19
9:30 a.m.-4:45 p.m. (sessions correspond with class schedules)
Keynote at 3:30 p.m.
CAVEA, JSSB Room 420
We are said to be living in the "age of information." But the same technologies that deliver information to our fingertips have also brought us fake news. So-called social media has produced seemingly unprecedented levels of political polarization and social isolation. The need to assess the impact of these media and technologies on our society and our democratic institutions has never been more urgent.
This daylong symposium will feature nationally recognized experts as well as local scholars from a variety of fields, including communications, journalism, political science, philosophy, religious studies and computer science. Regina Rini, Canada research chair in Philosophy of Moral and Social Cognition at York University, will deliver the keynote address and will be introduced by President Janine Davidson, Ph.D.
iNation is free and open to the public. Faculty bringing classes can RSVP at dphi@msudenver.edu.
For free tickets to the following off-campus events, please contact dphi@msudenver.edu.
Desire, Faith and Fidelity in "Anna Karenina"
Feb. 8, 6 p.m.
Denver Center for the Performing Arts
Join Chris Coleman, artistic director, Denver Center Theatre Company; Brian Hutchinson, chair of philosophy, MSU Denver; Vicki J. Grove, senior instructor, Russian Program, University of Colorado Boulder; Greg Ormiston, professor, Russian, University of Denver; and Joslyn Green, instructor, Young Writers Program, Lighthouse Writers Workshop, for a panel discussion followed by a performance of "Anna Karenina."
Free tickets are available for members of the MSU Denver community who attend the preshow panel.
"The Lady Eve": Exploring Cavell on Film
Feb. 23, 4 p.m.
Sie Film Center
Stanley Cavell (1926-2018) was one of the most celebrated American philosophers of the past century. Outside of the academy, he was perhaps best known for his insightful interpretation of Hollywood classics, which had profound impact on our understanding of the significance of film. This screening of one of his favorite screwball comedies, "The Lady Eve," will be followed by a discussion with his four most accomplished students and friends.
Peas and Carrots: "The Rembrandt Room"
Feb. 27, 8 p.m.
Buntport Theater Company, 717 Lipan St., Denver
The lighthearted talk-show-style Peas and Carrots series focuses on themes related to current Buntport productions, featuring music and interviews with D-phi scholars. This experience will follow a performance of "The Rembrandt Room," a dark comedy featuring one woman standing next to one masterpiece for who knows how long.
Check out the D-phi website to learn more.
Edit this page