Early Bird
Don't miss the 2019 Bridge Speaker event Thursday
Activist, professor and author Kathleen Cleaver will deliver lecture honoring Black History Month, Women's History Month.
February 25, 2019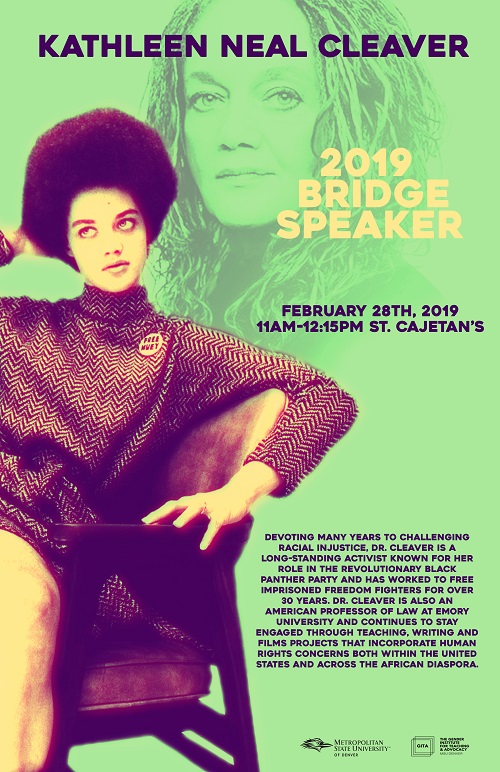 Kathleen Cleaver has devoted decades to challenging racial injustice and will continue sharing her message and mission as Metropolitan State University of Denver's 2019 Bridge Speaker.
Cleaver will visit St. Cajetan's Event Center on Thursday from 11 a.m. to 12:30 p.m., and the entire campus community is encouraged to attend. Faculty are also welcome to bring their classes and integrate the event into curriculum, and can email Alex Cardona, assistant event coordinator, for more details.
Having devoted decades to challenging racial injustice, Cleaver is a longstanding activist known for her role in the Revolutionary Black Panther Party and her more than 30-year commitment to working to free imprisoned freedom fighters. Cleaver is also a professor of law at Emory University and continues to stay engaged through teaching, writing and film projects that incorporate human-rights concerns within the U.S. and across the African diaspora. She has written several books, including "Memories of Love and War," "Liberation, Imagination and the Black Panther Party" and "Black Flags and Windmills."
Bridging Black History Month and Women's History Month, the 29th annual event — hosted by the Gender Institute for Teaching and Advocacy — invites influential African American women to speak to the campus on social and educational issues. Lectures focus on diversity issues, including fostering social awareness, academic enrichment and increasing multicultural campus competencies.
Edit this page