Early Bird
Met Media celebrates four decades of student journalism
Get your 40th-anniversary edition of The Metropolitan today, and celebrate with current and former staff Feb. 27.
February 21, 2019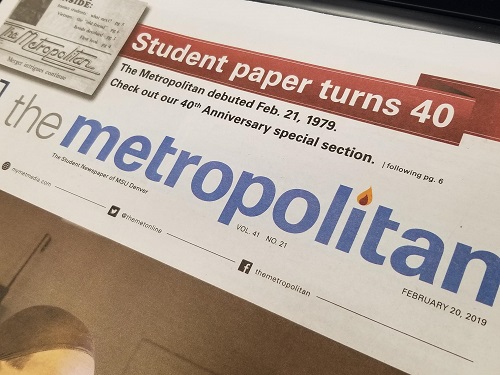 Hundreds of current and former journalists will gather at St. Cajetan's Event Center on Feb. 27 from 3:30-7:30 p.m. to celebrate four decades of student journalism at the 40th anniversary of The Metropolitan, the student-run newspaper at Metropolitan State University of Denver. The milestone is generating excitement among Roadrunner alumni while encouraging future journalists to join the ranks of those whose lives and careers have been bolstered by their time with the paper.
An anniversary exhibition at the event will include a timeline of milestones, showcasing campus news, sports, features and entertainment through the pages of The Metropolitan. Current students and professional staff members will also answer questions and speak about how Met Media provides opportunities to gain practical experience and enhance career-ready skills. A 40th-anniversary edition of The Metropolitan is also available across campus now.
The first issue of The Metropolitan, published Feb. 21, 1979, comprised topics not unfamiliar to today's campus staff and students. An editorial railed against the rising cost of textbooks and questioned the price of freedom regarding the revolution in Iran. Classified ads sold skis, stereo systems and a dirt bike while seeking refrigerators and desks. The issue's top story outlined legislative discussions of mergers and potential collaborations among the institutions on the Auraria Campus.
If you can't attend the exhibition, revisit Met Media issues going back to 1979 online at issuu.com/themetonline/stacks.
Edit this page