Early Bird
It's official: MSU Denver is a Hispanic-Serving Institution!
HSI designation opens up new funding doors and creates new opportunities for supporting student retention and success.
February 21, 2019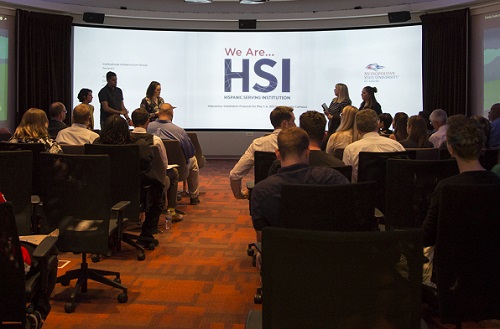 A process of more than 13 years — supported by numerous faculty and staff and two Metropolitan State University of Denver presidents — culminated this week in a huge victory when MSU Denver was officially granted Hispanic-Serving Institution designation by the U.S. Department of Education. A letter from the department confirms that MSU Denver's application was successful, allowing the University to apply for multimillion-dollar Title III and Title V grants for the first time.
"Becoming an HSI-designated University positions MSU Denver to provide the highest possible quality of education to Hispanic-identifying students and all students," said President Janine Davidson, Ph.D. "I commend every single faculty and staff member who has contributed to this process — especially my predecessor, President Stephen Jordan, Ph.D. — and I look forward to the new opportunities this designation will create for Roadrunners."
"Achieving HSI designation feels amazing, especially considering all the people and work that has been done to get us here," said Angela Marquez, Ph.D., special assistant to the president for HSI. "To my knowledge, most institutions achieve status essentially by default, but our journey was very intentional and strategic."
That strategy relied heavily on the efforts of Jordan; Esther Rodriguez, former special assistant to the president for HSI; Luis Torres, Ph.D., former deputy provost; Marquez; the HSI Implementation Team; and the HSI Task Force. These members of the campus community have spent years researching population and higher-education enrollment trends in Colorado — as well as identifying efforts that more effectively address the access, recruitment, transfer, retention and completion needs of the growing Latina/o population and all MSU Denver students.
As a result of receiving this designation, MSU Denver is eligible for a number of new competitive funding opportunities that could further improve student success, retention and completion for Latina/o and all students. Federal Requests for Grant Proposals for Title V funding generally launch by the end of February and must be completed by May. Institutions that compete in this process are usually alerted by September that their funding requests have been granted.
While Davidson and senior leadership will ultimately determine the University's HSI-related funding priorities, the process remains highly inclusive. Faculty and staff are encouraged to submit ideas to the HSI idea-proposal form and to learn more about allowable funding areas and activities — as well as priority areas already identified by the HSI Implementation Team as listed on the HSI website.
"It's been a long time getting to this step, but that has also allowed us to be creative and intentional in thinking about how we can best support our students," Marquez said. "In submitting grant proposals, we'll be looking at writing grants that reflect best practices and at what is most beneficial for our students."
Stay tuned to the Early Bird and the HSI webpage for more details and information.
Topics: Hispanic Serving Institution
Edit this page