Early Bird
General Studies Renovation Task Force announces forums
Faculty members are invited to share ideas for editing student learning outcomes and for reinvigorating and reframing the program.
February 13, 2019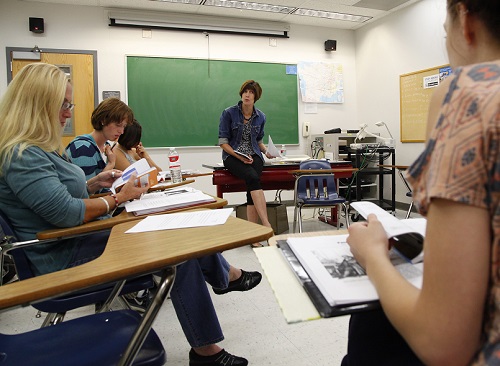 The General Studies Renovation Task Force has been charged with editing General Studies student learning outcomes where desired and making assessment of student learning in General Studies courses more meaningful. The group also hopes to reinvigorate and reframe the General Studies program through tweaks and a strategic implementation plan so that students and faculty see purpose for General Studies beyond a check on a degree-progress report.
The Task Force, created by the provost after a recommendation from a Faculty Senate subcommittee and the University Provost Assessment Committee, recommends keeping the existing General Studies categories, with one exception thus far. Faculty members are encouraged to participate in discussions about a possible merging of Social and Behavioral Science 1 & 2 (SBS). Instead of three credits of each, students would take six credits total from a combined list of SBS courses.
Full- and part-time faculty are invited to attend forums by General Studies category. In these forums, participants will create a definition for the category and edit rubrics and student learning outcomes where desired. The Task Force member lead for each category will come prepared with ideas and drafts to begin the discussion. Some of the larger categories are offering multiple forums with the same content, so feel free to attend any of the proposed times.
Forums for additional categories have not been scheduled. Emails will announce future dates, or faculty may check the webpage for updates.
Historical
Thursday, 9:30 a.m., Central 210
Contact: Meg Frisbee, associate professor of history: mfrisbee@msudenver.edu
Arts and Humanities
Monday, 9:30 a.m., KC 421
Tuesday, 9:30 a.m., KC 421
Feb. 22, 12:30 p.m., KC 421
Contact: Liz Goodnick, associate professor of philosophy: egoodnic@msudenver.edu, and Vincent Piturro, associate professor of English/film studies: vpiturro@msudenver.edu
Quantitative Literacy
Monday, 2-3:15 p.m., Science 2002
Contact: Chris Harder, associate professor of mathematics: harderc@msudenver.edu
Natural and Physical Science Forums
Monday, 3:30-4:45 p.m., Central Classroom 103
Feb. 21, 11 a.m.-12:15 p.m., Central Classroom 103
Feb. 22, 11 a.m.-12:15 p.m., Central Classroom 103
Contact: Keah Schuenemann, associate professor of meteorology: kschuene@msudenver.edu
Edit this page