Early Bird
Jenn Capps shares her goals for CPS
After a decade with MSU Denver, Capps was recently promoted to dean of the College of Professional Studies.
January 7, 2019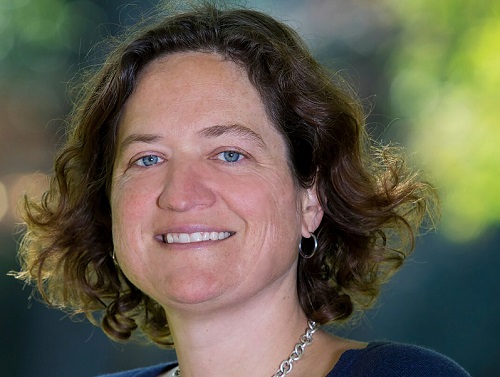 In December, President Janine Davidson, Ph.D., announced the promotion of long-time faculty member Jenn Capps, Ph.D., to dean of the College of Professional Studies. Capps served for the last 18 months as interim dean, a period during which Davidson noted she "demonstrated extraordinary leadership on some of Metropolitan State University of Denver's top initiatives."
Throughout her decade at MSU Denver, Capps has served as a leader in developing and sustaining public-private partnerships and in creating interdisciplinary curriculum that is responsive to industry and workforce needs, contributing to a diverse range of areas, including study-abroad education, student learning assessment, and the creation and support of master's programs. She is also an associate professor in the Department of Criminal Justice and Criminology.
In her announcement, Davidson noted that Capps is respected across campus for her tireless work ethic and responsiveness to her colleagues, and applauded Capps' strategic and innovative thinking.
"In particular, I have been impressed with her collaborative work in launching the Health Institute, which will revolutionize the way MSU Denver educates future health professionals," Davidson said.
As she begins a new semester under a new title, Capps shared her vision for her tenure – and why she remains so committed to the students of MSU Denver.
What are your priorities and goals for CPS?
First, I want to continue to increase MSU Denver's reputation for accessibility and excellence. Our community knows MSU Denver as a place where most anyone can go, but I want our community to also know us as a place that most everyone wants to go for our excellence in programs like aviation, brewing, cybersecurity and industrial design.
Second, I want to continue to move forward initiatives that create opportunities for students and fill workforce gaps – like growing nursing simulation space, supporting growth in our behavioral health programming and introducing students to the changing field of broadcast journalism.
What energizes and excites you about leadership?
I love the diversity of responsibilities of being a dean and through collaboration with colleagues, a strength-based approach, and good old-fashioned hard work, I believe most anything is possible.
I am also really excited to continue in a leadership role at such a dynamic university which allows me to work hand in hand with community and industry leaders to impact workforce gaps and create life-changing opportunities for our students.
How do you plan to be inclusive in your leadership and reinforce the University's core values?
By inviting diverse voices to the table, ensuring participants feel valued and safe to offer their contributions, and by talking less and listening more. Our best ways forward for MSU Denver exist within the brilliance of our faculty, staff, students and community.
Capps earned a Bachelor of Science in psychology from George Mason University, a Master of Arts in counseling psychology at the University of Colorado Denver and her doctorate in counseling psychology with a focus in education and supervision from the University of Northern Colorado, and she is a licensed professional counselor. Prior to joining the University, she served as a leader in community-based collaborative programming aimed at improving community safety while reducing incarceration rates for the highest-risk youth in Colorado.
Edit this page