Early Bird
A new vision for student employment
The Office of Student Affairs is establishing a new working group and crowdsourcing best-practices and success stories.
January 30, 2019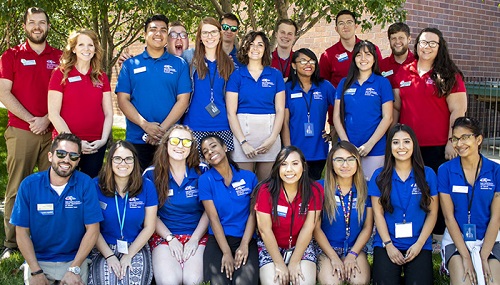 As Metropolitan State University of Denver prepares to debut the new Classroom to Career Hub, Will Simpkins, vice president for student affairs; and George Middlemist, associate vice president of administration, finance and facilities, are jump-starting a new student-employment conversation. Their goal is to revitalize MSU Denver's student-employment structure, reframing employment as a high-impact student-success practice.
"Student employment might be the only area outside of class where students engage with the University," Simpkins said. "So it's not just about providing financial skills or strengthening resumes; it's also about building community."
If your team is helping student employees to meaningfully advance toward their future careers, or if you have student-employment success stories to share, the Office of Student Affairs wants to hear about it. Please send stories, ideas and insights to Emily Willan, director of operations and planning for Student Affairs.
Additionally, faculty and staff are invited to join the new student-employment working group to further develop new ideas and directions. Ideas and feedback gathered through both processes will inform a restructuring of student employment to focus on retention, professional development and strengthening institutional infrastructure to support degree completion. Those interested in joining the student-employment working group can also email Willan.
"Part of the C2 process is identifying what we're already doing in terms of innovative student-employment approaches and celebrating successes," Simpkins said.
Student-employment innovations already abound across campus, and Accounting Services offers a great example. The office historically hired temporary workers to manage seasonal ebbs and flows, costing up to $50,000 annually. Seeing an opportunity to engage students already preparing for accounting careers, however, the office broadened student employees' responsibilities from answering phones and making copies to learning Banner, preparing financial statements and completing bank reconciliations. Developing student workers provided a more stable and reliable workforce — and made students excellent candidates for postgraduation careers. Today, the office is peppered with former student employees, including Controller Liza Larsen and Senior Financial Reporting Officer Andy Mai.
Similarly, Roadways annually hires more than 200 students as office workers, graphic designers and peer mentors; exercise-science students put their coursework into practice as personal trainers for Campus Recreation; and the Office of Human Resources helps student employees apply classroom experiences in real-world settings — often launching students into successful careers.
If you have a similar success story, insight or idea to share, don't forget to contact Willan and join this inclusive student-employment conversation.
Edit this page