Early Bird
Health Center offers medication disposal
If you have unnecessary or expired medication, get rid of it safely and easily right here on campus.
January 29, 2019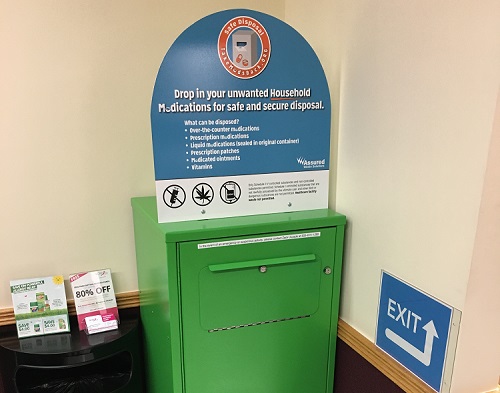 Are outdated medications taking up space in your cabinet? Free up space — and protect your family's health — by taking advantage of medication take back services now available at the Health Center at Auraria.
According to the National Survey on Drug Use and Health conducted by the Substance Abuse and Mental Health Services Administration, more than 6 million Americans misused controlled prescription drugs in 2016. A majority of abused prescription drugs were obtained from family and friends, often from the home medicine cabinet.
In response, the Health Center at Auraria's medication take-back service is easy, anonymous and secure. Simply visit the Health Center through the Plaza 150 entrance, locate the bright green box in the lobby, and deposit your unwanted medications. Access to the medication take-back box is available during business hours:
Monday -Thursday 8 a.m.-5 p.m.

Friday 8 a.m.-3 p.m.
Items that can be accepted include: prescription medications (including prescribed controlled substances), over-the-counter medications, liquid medications in original containers, medicated patches, medication samples, ointments, vitamins, pet medications, unused injection cartridges and unused inhaler canisters.
Items that cannot be accepted include: marijuana; illicit drugs (DEA Schedule l drugs); needles, syringes or other sharps; chemotherapy drugs; medical tools and supplies; bloody or infectious waste; personal care products; thermometers; empty containers; or medication wastes
The Health Center at Auraria will also be hosting a kickoff event soon to provide more information about this helpful public health service.
For questions about the medication take-back program or other Health Center at Auraria Services, contact Jeff "Zack" Uszacki at uszackij@msudenver.edu or Ext. 5-1260.
Edit this page