Early Bird
How MSU Denver is providing 24/7 student support
A team of talented Roadrunners helped develop a financial aid chatbot to address questions and concerns in real time.
January 22, 2019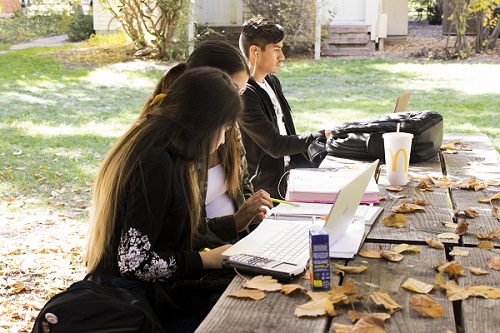 Supporting student success means providing great resources tailored to Roadrunners' needs and concerns, and the new Office of Financial Aid chatbot is a perfect example. Designed to respond to students' financial aid questions in real-time — no matter the time — this helpful new tool will ensure that no student loses sleep over lingering financial aid concerns.
So, what exactly is a chatbot? It's an automated artificial intelligence tool designed to communicate with students, whether they have questions at 3 p.m. or 3 a.m. Users can ask the chatbot basic questions about financial aid, and the chatbot is programmed to respond with custom responses, short videos and/or links to helpful information. Students with more complicated or specialized questions will be directed to contact the Office of Financial Aid where they can work directly with a staff member to address their concern.
"Higher education marketing experts are projecting chatbots to be the future of communication between schools and potential students," said Thad Spaulding, executive director, Office of Financial Aid and Scholarships. "Institutions that rely on email and phone calls … might find their communication methods soon antiquated, but MSU Denver has recognized the shift in communication preferences of our students."
The chatbot project is the result of broad collaboration across numerous MSU Denver departments. Staff from the Call Center and Office of Financial Aid, including student employees, were instrumental in the tool's selection and customization. Outside developers also worked with campus accessibility experts to ensure the chatbot could be used easily and efficiently by all current and prospective students.
"We hope the chatbot can act as an extension of the outreach and recruitment efforts that are already in place," said Jeremy Coleman, associate director, Call Center. "Paying for college, is often one of the major sources of stress that students face when they are considering whether to start or continue their education. Our chatbot lets students and parents interact with MSU Denver in a friendly, informative way when they have questions about financial aid, without having to worry about the time of day."
Faculty and staff are invited to visit www.msudenver.edu/financialaid to test out the chatbot, which also helps designers improve its efficacy and efficiency. As moderators can view all interactions, the more questions the chatbot receives, the better they are able to craft responses to guide students through the financial aid process. Visitors simply click on the "Questions? Ask Financial Aid" button in the lower right-hand corner and ask away.
For questions about the chatbot, or how you can help students navigate their financial aid journey, contact finaid@msudenver.edu.
Edit this page