Early Bird
MSU Denver receives multiple honors at recent CASE conference
Advancement, Marketing and Communications teams recognized with a total of six industry awards.
January 22, 2019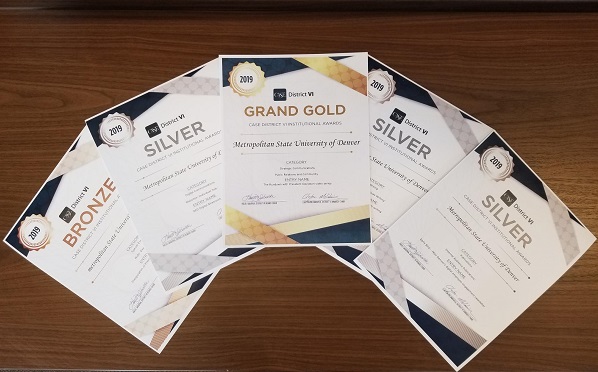 Roadrunners didn't have to travel far for the 2019 Council for Advancement and Support of Education District VI conference. The annual event, held this year in downtown Denver, recognizes advancement and communication professionals from across the Midwest and offers attendees a chance to network, learn and explore new ideas.
Between interactive discussions and breakout sessions, Roadrunners spoke up and cleaned up at this year's conference. Associate Director of Videography and Production John Arnold hosted a session on incorporating a journalistic approach into institutional storytelling, complementing a session led by Director of Executive Communications Dan Vaccaro and Staff Writer Cory Phare on MSU Denver's shift from pitching the media to becoming the media — highlighting the success of the RED platform.
Traci McBee Rowe, director of Donor Relations and Advancement Special Events, joined colleagues from the University of Nebraska Foundation and the Emporia State University Foundation to reflect on MSU Denver's most meaningful moments in development and stewardship before President Janine Davidson, Ph.D., closed the event with a powerful speech on the future of higher education.
Referencing the need to balance investment in technology and career-track programs with the need to help students develop into thoughtful, creative and critical-thinking citizens, Davidson shared the vision that has already come to define her presidency.
"Higher education is more important than ever because our society and economy are getting so complex," Davidson said. "It's the liberal arts and humanities that help us make sense of what's going on in this world."
This vision — and a year of hard work to redefine the University's philosophy and approach to internal and external communication — paid off big when MSU Denver placed in six categories at the event's award ceremony. Davidson's Rundown series in particular was honored with the rarely bestowed Grand Gold award for Strategic Communications, Public Relations and Community Relations Projects. Other awards include:
Digital Communications, Websites: Individual Sub-Websites
Silver: RED Digital Newsroom
Internal Audience Publications: Digital
Excellence in General News Writing
Silver: RED Digital Newsroom
Special Events
Bronze: Inauguration of President Janine Davidson, Ph.D.
External Audience Print Tabloids and Newsletters
Bronze: Roadrunner Development Report - Transforming Lives
"This recognition from our fellow CASE institutions reaffirms MSU Denver's innovation and leadership, not just when it comes to delivering high-quality education but also with regard to serving and engaging our employees and nurturing vital donor and community partnerships," said Cathy Lucas, chief of staff and vice president of strategy.
Edit this page