Early Bird
Making cents of Accounting Services
This vital University department does much more than you realize; here are the many ways it can help your team succeed.
January 21, 2019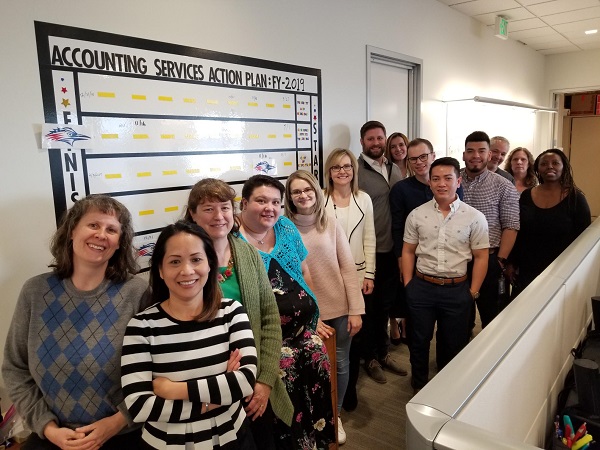 Accounting Services has a CADRE of professionals ensuring that the University remains in compliance, securing its assets and supporting campus departments in meeting their missions.
In addition to services you may already be familiar with, such as paying employees and vendors, Accounting Services:
Pays taxes

Despite being a tax-exempt state agency, the University still has to pay taxes and remit tax returns.

Keeps no cash

The University isn't allowed to hold any of its cash, so money is moved to and from the State of Colorado almost daily.

Manages the books

Our financial records must be sent to the state on a monthly basis, so the Accounting Services office must operate not only in Banner but also in the state's financial system.
The IRS, SEC, State of Colorado, federal granting agencies, rating agencies, external and internal auditors, local taxing authorities and investors all review our information, so we are constantly making sure we know which rules apply to the University and establishing processes to ensure that we remain in compliance.

Is accountable to multiple agencies
There are six teams housed in the Office of Accounting Services available to help navigate the University's financial world:
Accounts Payable (A/P)
Assets
Contracts and Business Services
Grant and Contract Accounting
Reporting and Compliance
Payroll
Accounts Payable (A/P) is responsible for paying the University's financial obligations. Terri McLaggan manages five specialists who work together to pay all your travel-related payments, vendor payments and other University bills. A/P is also responsible for reviewing all Corporate Card transactions.
Assets, managed by Zach Ruff, is responsible for safeguarding and tracking assets, including cash, equipment and buildings as well as a unique asset: financial information. This area ensures that the Banner Finance module is kept up to date with current and accurate departmental information. In addition to completing reconciliations, performing asset inventory and keeping the financial information system updated, this area manages the University's bonds, reviews and tracks leases, sets up Banner FOAPAL codes and completes departmental expense transfers.
Beth Christensen manages the Contracts and Business Services team, which helps departments with contracts for goods and services, leases, MOUs, risk management related to property and liability questions, managing and updating the signatory authority list, and state vehicle requests.
Grant and Contract Accounting, under Darlene Eckhardt's management, facilitates the post-award financial components of sponsored programs (e.g., grants) from budget setup to close. The team helps the campus community understand and navigate the complexities of post-award fiscal-compliance regulations by providing financial reporting, budget tracking and fiscal-compliance review as well as ensuring that the grants remain compliant with internal policies and external regulations. This area works closely with the Principal Investigator and the Office of Research and Sponsored Programs as grants and contracts are awarded.
Reporting and Compliance is managed by Assistant Director Quynh Nguyen. Her team prepares and provides financial information to internal management as well as external agencies. It also ensures compliance with federal, state and local laws and regulations surrounding financial reporting, tax submission and reporting. Additionally, the team manages the University's credit-card program and provides training to the campus community on the Banner Finance system, procurement, travel and related financial processes.
Last, but certainly not least, is Payroll. Manager Battsetseg Stinson's team provides complete payroll services to all faculty, staff and student employees – and issues annual W-2 forms.
Accounting Services aims to provide the best support possible for University departments to enable them to offer the best education and support for students, and we are always looking for ways to serve you better. If you have questions, comments, concerns or suggestions, visit us online or contact any Accounting Services team member at 303-615-0039. If you're visiting the Jordan Student Success Building, stop by Suite 320 and say hello
Edit this page