Early Bird
Technically Speaking: Enhancing MSU Denver's security profile
ITS tests additional Office 365 features for possible Universitywide implementation.
January 17, 2019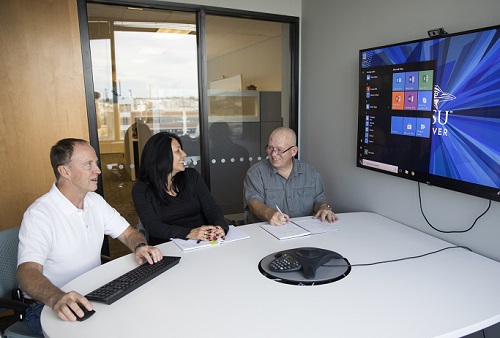 Information Technology Services routinely reviews and updates Metropolitan State University of Denver's security profile to proactively protect the University from ever-changing information-security threats. Each security tool, policy or procedure guards against a specific type of threat, and the layering of these defenses forms the University's overall security profile.
The following Office 365 security features – additional layers of protection – are actively being tested by ITS for future implementation. Watch for more detailed information about each feature.
'Report Message' button
Microsoft offers an Outlook tool that makes it easy to report spam or phishing emails. After this feature is implemented, you will be able to simply click a "Report Message" button to report a suspicious email rather than forwarding it to spam@msudenver.edu.
Encryption of emails containing sensitive information
This month, Microsoft will make a global change to all Office 365 environments. The updated default configuration will automatically encrypt outbound email messages that appear to contain sensitive personally identifiable information, including bank routing numbers, credit-card numbers, passport numbers, bank-account numbers, Social Security numbers and U.S. Individual Taxpayer Identification Numbers.
While none of these data types should be shared via email, it is possible that select nonsensitive messages may be flagged because of similar formatting or structure. No action is required on your part to activate the new security offering, and if this occurs and requires attention from ITS to resolve, please submit a Helpdesk ticket at support.msudenver.edu.
Multifactor authentication
Multifactor authentication (MFA) is an added layer of security that helps safeguard access to secured systems and information. Currently, a NetID and password are the "factors" or credentials used to gain access. MFA will require a third factor under certain conditions to validate your identity through a one-time code available via smartphone app. This protects your account from compromise if someone manages to obtain your NetID and password.
Please contact the 24/7 ITS Helpdesk at 303-352-7548 or support.msudenver.edu if you have any questions or concerns. Walk-up service desks are in Administration Building 475 and West Classroom 243. Please note that service-desk hours recently changed to Monday-Thursday from 8 a.m. to 5 p.m. and Friday from 10 a.m. to 5 p.m.
Edit this page