Early Bird
Stopping the stop-out
A new survey helps explain why some Roadrunners fly the coop – and provides insights on how to keep them in the flock.
January 17, 2019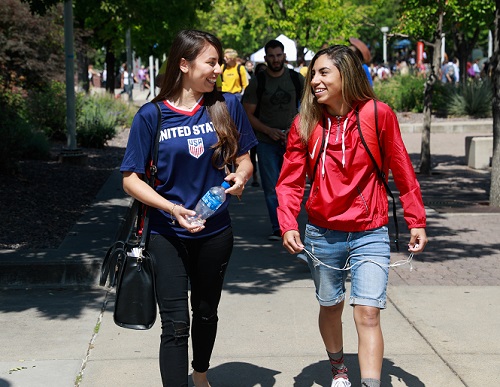 Why do some Metropolitan State University of Denver students fail to re-enroll from semester to semester? In 2018, Angela Marquez, Ph.D., head of the University Hispanic-Serving Institution initiative, and Laura Gorny, Ph.D., state and federal reporting specialist, tackled that very question. Together, they developed a tool for gathering critical data on why students choose not to re-enroll (also known as stopping out) — and what could help those students return to the classroom.
"In order to be considered a Hispanic-Serving Institution, enrollment of Hispanic/Latinx students needs to be at or above 25 percent," Marquez said. "It's important we understand why students do not re-enroll and potentially help improve retention for this population — and given our dip in enrollment, it's important to retain all students."
With the input of the HSI Implementation Team and the Offices of the Provost and President, Gorny and Marquez created the "Roadrunners Belong, Roadrunners Matter Survey," distributed to students who stopped out between the fall 2017 and spring 2018 semesters (at the time of census). In addition to pinpointing motivations, the survey sought to understand whether students are truly leaving the University or are simply taking a breather.
"Interestingly, 'I needed a temporary break from my studies' was the most popular response, which says that a lot of students are indeed stopping out — not making a true exit," Gorny said.
Those temporary breaks are, for many respondents, not directly related to their satisfaction with MSU Denver. Many cited difficulty balancing school with other responsibilities, such as work (47 percent) and family (33 percent), and the need to manage personal or family health-related problems (31 percent). General financial constraints affected 52 percent of respondents, followed by the inability to afford tuition and fees specifically (49 percent) and troubles with obtaining financial aid (39 percent).
"There is also a myth that students don't return because of their grade-point average, but the majority of students who didn't return were in good academic standing when they left," Gorny said.
Gorny added that for many respondents, stopping out doesn't mean abandoning education — or MSU Denver — altogether. "In fact, 60 percent of the students that responded to the survey do plan to return," she said. "The majority of those students plan to re-enroll in the 2018-19 academic year."
Gorny and Marquez invited about 3,070 degree-seeking undergraduate students who did not return for the spring 2018 semester to take the survey, and more than 300 responded. "While about 10 percent of students responded to the survey, that leaves the question of the students who did not respond," Marquez said. "This must be kept in mind when generalizing our findings to all nonreturners."
The two are planning to survey students who were enrolled in the fall 2018 semester who do not re-enroll for spring 2019. "We are looking forward to replicating this study," Gorny said. "When we see definitive patterns for different groups of students, then we can start to think of more tailored outreach."
In the meantime, Gorny and Marquez are working to further disaggregate the current data, looking for patterns with regard to respondents' race, ethnicity, age, gender, academic program, etc. This data could serve as the foundation of further research into students' enrollment decisions, but the survey itself is already serving as an outreach tool, keeping the lines of communication open between the University and students who may need support returning to campus.
"At the end of the survey, we asked students if they would like to be contacted by an advisor; 21 percent said yes, and some students even reached out to us personally and told us their stories," Gorny said. "The survey sends a message to students that we care, that we'd like them to come back and that we want to help."
Edit this page