April
The Jordan legacy: A commitment to inclusion and equity
Myron Anderson recounts President Jordan's impact of leadership by looking through the lens of equity.
April 26, 2017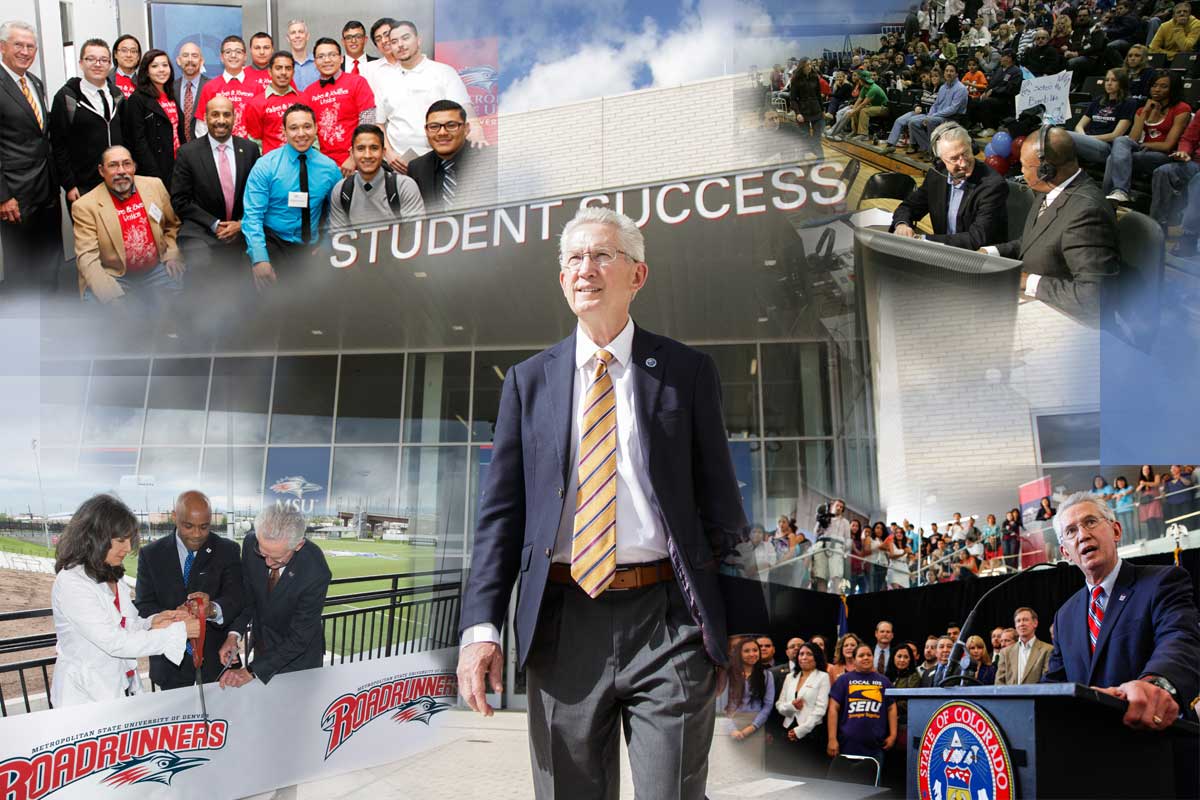 President Stephen Jordan has built a track record of preeminence from 12 years at the helm of MSU Denver. To honor his legacy, we're taking a weekly look at some of the ways he's transformed the University for the better.

The letter D in CADRE reflects a shared, core value of a campus-wide commitment to diversity.

But, what has that meant in practice for MSU Denver during President Stephen Jordan's tenure?

According to Myron Anderson, associate to the president for diversity, it's about building toward systemic equity, empowering students to act as agents of change themselves.

"By looking at key measures every day, Dr. Jordan tries to ensure that the infusion of subjectivity isn't an overarching indicator on fairness and the quality of work," he said. "And after graduating, our students go back to transform their communities – that's a measure of success when everybody wins."

With the development of what is now the Office of Diversity and Inclusion in 2005, the foundation was set to build upon findings from the first round of the Equity Scorecard, an ongoing effort to study and address structural inhibitors to student success.

"Putting that in place was step one of promoting and advancing the practice throughout the institution," Anderson said.

Another initiative with substantial impact was Jordan's core investment in full-time faculty members. "When you have a net return of 200 new faculty members, that's a key opportunity to build diversity," Anderson said.
Through efforts like the Target of Opportunity Program, recruitment and retention of underrepresented groups across the institution became a top priority. This has resulted in increases in full-time faculty of color by 52 percent (83 in 2005; 126 in 2015), administrative staff of color by 207 percent (74 in 2005; 227 in 2015) and students of color by 48 percent (5,094 in 2005; 7,561 in 2015). In recognition of these combined initiatives, INSIGHT into Diversity magazine has named MSU Denver one of the top 10 colleges and universities in the nation for diversity and inclusion work.

One of the most foundational elements of Jordan's presidency, however, has been his commitment to access and success for historically marginalized students. The initiative to become a Hispanic Serving Institution is providing an infrastructure of support that will benefit the entire campus community. And, of course, he's spearheaded efforts on ASSET and DACA legislation to open doors and advocate for undocumented students.

As Anderson recounted, "[Jordan] asked, 'If students went to high school in Colorado and came to MSU Denver, why should they have to pay out-of-state tuition?'

"That was a bold move; we ended up at the forefront of this issue in the state – and really, the entire nation," he added.

These are but just a few examples of the initiatives that take diversity and inclusion out of a theoretical context and put them into action.

Although there's still work to do, Anderson credits Jordan's commitment to looking at everything through a lens of equity as taking the University farther along the road to preeminence than we were 12 years ago.

"It's at the core of who he is as a university president and as a person," said Anderson. "He's a champion for diversity and a collaborative leader in the truest sense of the word."
Edit this page