November
Open House continues to transform
How this fall's recruitment event was different – and what's next.
November 8, 2018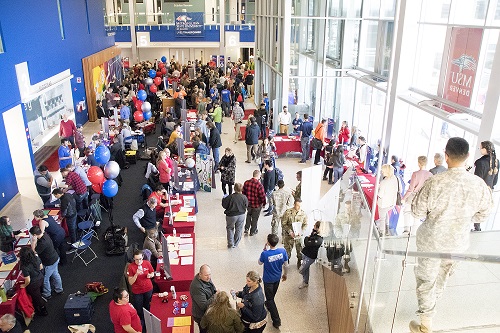 The goal of the Fall Open House this past Saturday was to continue building up the redesigned event — also known as The Experience — using student, faculty and staff feedback. So how did the Office of Admissions do? In short, minor changes brought big improvements and an overwhelmingly positive response.
This year, the event included more morning lecture sessions along with extra seating for attendees. Along with a variety of faculty speakers, MSU Denver grad and "Shark Tank" alum Julia Rossi shared her own inspiring success story.
The Resource Fair also saw significant improvements. After taking faculty and staff comments into account, music remained outside the building and check-in was relocated into the Student Lounge, allowing prospective students and their families to more comfortably visit booths and ask questions.
Even more encouraging: Afternoon information sessions saw strong attendance compared with previous years.
"I was excited to hear so many positive things about the event from the students and parents who attended," said Vaughn Toland, executive director of admissions and outreach. "I'm hoping it helped to seal the deal for many of them to choose to MSU Denver."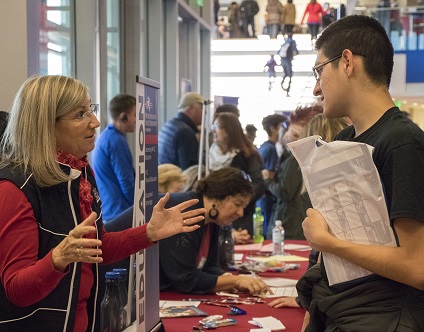 Overall attendance mirrored the last two Open House events, with more than 900 guests; and more than half of those attendees joined in on a campus tour. Staff and faculty attendance was higher than ever at almost 300 participants.
"It's amazing to see all of MSU Denver come together in one place," said Garrett Spradlin, manager of recruitment events, visits and communications for Admissions.
With 80 percent of prospective students giving the event an "A" grade, what is next on the list of goals? Student surveys showed that most students hear about the event through email and MSU Denver staff. The Office of Admissions aims to increase attendance at the semiannual event by focusing on promotion through its newly implemented customer-relationship-management system.
How can you help improve Open House: The Experience? Spread the word, and take a brief survey to share your feedback.
Edit this page