November
Hello, my name is ... Megan Hughes-Zarzo
The Honors Program director is seeking to grow the program and change students' perceptions of what they can achieve.
November 8, 2018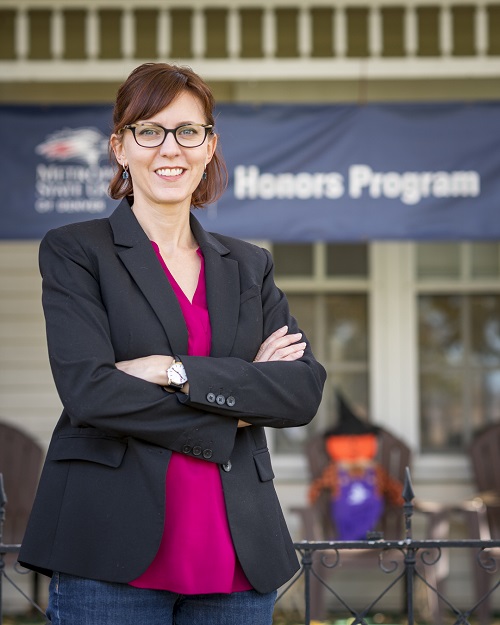 Megan Hughes-Zarzo, Ph.D., is a master of moving parts. As director of Metropolitan State University of Denver's Honors Program, Hughes-Zarzo spends her days recruiting students, building curriculum, connecting with academic departments, teaching thesis courses and supporting the more than 200 Roadrunners involved in the Honors Program.
Prior to joining MSU Denver in 2015, Hughes-Zarzo cultivated a passion for learning by studying Spanish and 2-D studio art as an undergrad and later earning a masters and Ph.D. in Hispanic Language and Literature. She now guides students in their own academic journeys, building the Honors Program's interdisciplinary curriculum and its visibility on campus.
What does it take to build a successful Honors Program?
If you're going to have an Honors Program that serves the entire institution, you need to get familiar with the entire institution. My previous institution was much smaller, and it was easy to know everyone. At MSU Denver, this is a much bigger task. I'm getting to know as many departments and chairs as possible – what their students are doing, how the programs operate – to see how Honors can serve all departments and work for students from any major.
So what's up with all these Nerd Herd T-shirts?
When I got here, the Honors Program had a lot of opportunity for growth. Many students didn't even know about it. The Honors Program student leaders created the T-shirt design for this year, and efforts like these have been helping. We have doubled in size over the past year.
What was your own academic journey like?
I was born and raised on a farm in Nebraska and went to a country school. There were four people in my kindergarten class. Diversity was not really a thing where I lived, but somewhere along the way I got really interested in Spanish. I went to Peru in high school and fell in love with language and learning and understanding people who were different than me.
I eventually became a Spanish professor and specialized in literature written during the transition between feudalism and capitalism. I focused on a 17th-century nun writing in New Spain, which is now Mexico, and tried to understand what it meant to be a woman writer in that transitional period.
It sounds like you have a lot in common with Honors Program students.
I have a lot of wide-ranging interests, and with the Honors Program I get to work with students from all disciplines — chemistry, biology, nutrition, accounting, theatre, psychology, philosophy.
I've also been through a lot of change in terms of how I think. I relate to students who are going through a lot of intellectual change and to those students who are questioning everything. I think I am suited for that type of leadership, but it doesn't make it easy. There are still hard conversations when students are thinking about complex human issues and their own academic trajectory and wanting you to weigh in.
How would you describe typical Honors Program students?
They are students who want a challenging curriculum, want to be in a community of learners, are excited about high levels of achievement, have multiple interests and want to explore multiple disciplines — the Honors Program meets them there. We work with a lot of students who have never thought of themselves as an honors student before but are realizing that they can and want to do this level of work. We're also transfer-friendly, which aligns with the MSU Denver mission.
How do you hope to grow the program?
I think the Honors Program should be bigger. Students need to maintain a 3.3 GPA or higher to join Honors, but in any given semester there are already more than 8,000 students at a 3.0 GPA or higher. I feel like that achievement is part of our identity as an institution. It really speaks to the tenacity of our students, but we don't always talk about how many students are really thriving.
Edit this page