November
Your guide to the best breakfasts on the Auraria Campus
Where to find awesome avocado wraps, piping-hot pancakes, scrumptious Spammy eggs and more.
November 7, 2018
The Auraria Campus stretches across 150 acres and is full of hidden treasures, including many delicious places to eat. If you have yet to explore beyond Starbucks and McDonald's, take a look at these campus eateries — and their standout breakfast dishes.
Tivoli Student Union
On the main floor of the Tivoli is the I Love It Market. The corner market offers on-the-go breakfast options such as breakfast cereals, but its hidden gem item is the hot and ready-made Tamale Kitchen breakfast burritos.
Looking for a hot homemade breakfast? Biscuits & Berries, on the first floor of the Tivoli, has at least four options daily. Currently on the menu: a steaming mountain of scrambled or fried eggs, pork green chili, diced tomatoes and cheddar cheese. The biscuits and gravy and vegetarian dishes don't disappoint, either.
Expanding your palate can be challenging, so start small with the Spammy eggs at Sono, on the first floor of the Tivoli. Before diving in, take a moment to enjoy the aroma of fried Spam and seasoned scrambled eggs topped with green onions, sesame seeds and a choice of "sexy sauces."
Auraria Library
Nestled in the middle of the Auraria Campus is the Auraria Library's Library Café. Stop in and try Street Biscuit's meat-free burritos and scrambles. You don't have to be a vegetarian to enjoy these hearty dishes.

South of the Auraria Library is bright-orange food truck Saffron Grill, offering plenty of Greek favorites. For breakfast, try a pita wrap with your choice of eggs and gyro meat, steak, spinach, mushrooms or cheese. Also on the menu: waffles and crepes. Who knew a little orange food truck could have so much to offer?
Science Building
Still hungry? Head to Intermission Café in the Science Building to peruse the café's many breakfast sandwiches and wraps. The croissant sandwich and breakfast avocado wrap are the most popular; plus, staff will prepare them fresh to order.
North Classroom
Across from the Science Building, the North Classroom's Simply Fresh Market offers a variety of breakfast options from grab-and-go to made-to-order. The bagel sandwiches are top sellers, but if you want a more traditional breakfast try the waffles or pancakes with plenty of syrup.
9th Street Park
Among the Victorian houses along 9th Street Park is the Auraria Faculty and Staff Club. A popular spot for a sit-down breakfast, the club offers comfortable seating and good company. The menu includes burritos for vegetarian and meat-loving folks and croissant sandwiches with a side of fruit — all freshly prepared.
Jordan Student Success Building
If you're headed to the JSSB, stop by Dazbog. Those with diet restrictions will appreciate the Outrageous Baking gluten-free bread selection paired with a steaming cup of Roadrunner Blend drip coffee.
Administration Building
Hidden away for some and on the way for others is the 5th Street Café in the Administration Building. Try the green-chili breakfast burritos prepared fresh by Milagro Burritos or the array of fresh muffins, pastries and fruit.
See the map below to find your next destination and some photos to entice your taste buds, then comment below with your favorite Auraria Campus breakfasts or any spots that didn't make the list.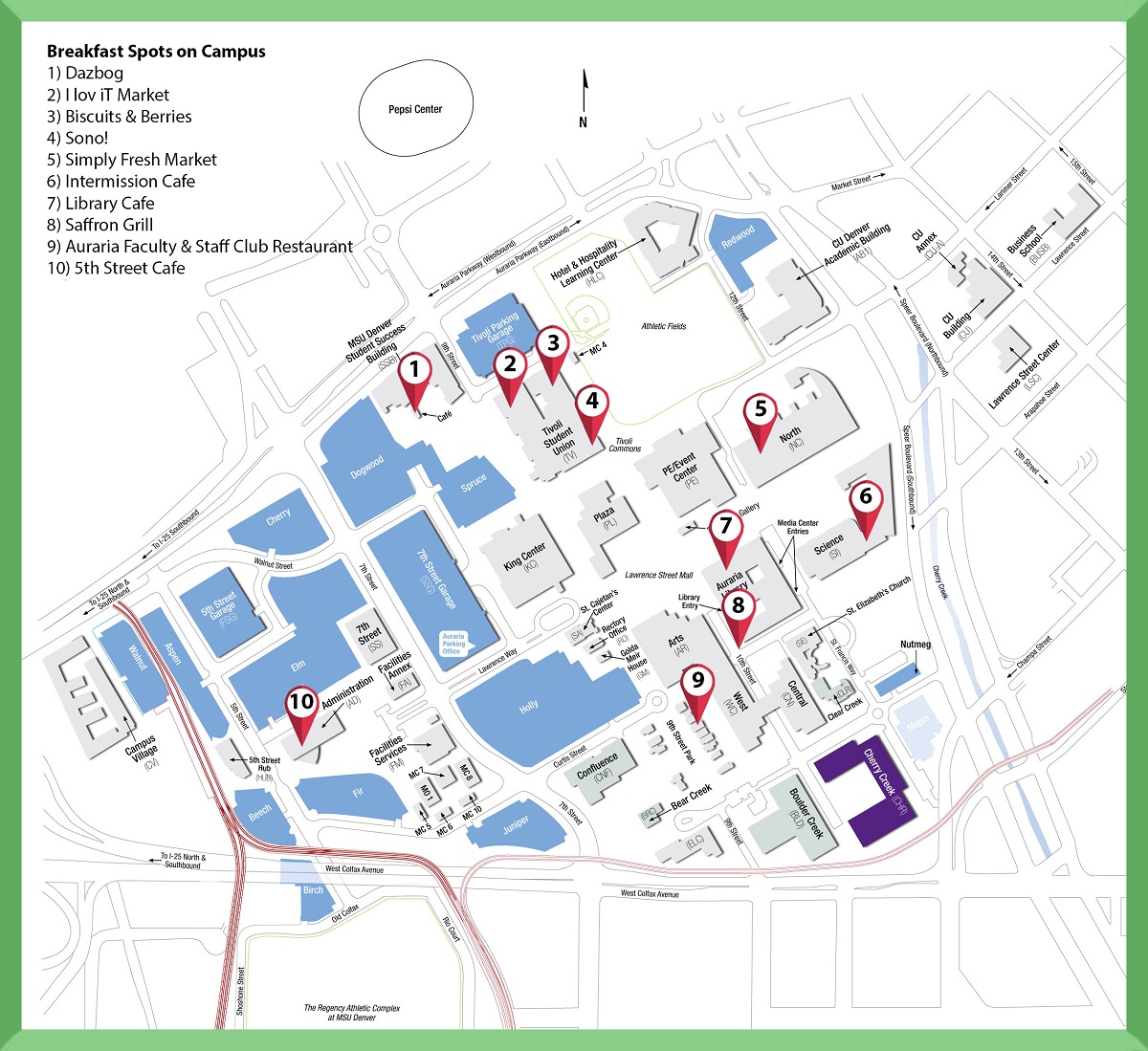 Photos: Kylie Henson and Olga Sago
Edit this page