November
Congratulations to the 2019 MLK Peace Award winners
Roadrunners and community members will be recognized Jan. 18 for their commitment to social justice.
November 29, 2018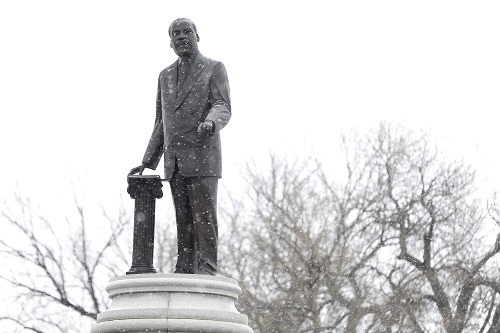 For 28 years, the campus community has come together each January to celebrate the life, legacy and ideals of the Rev. Martin Luther King Jr. at the annual MLK Peace Breakfast. The event celebrates individuals who keep King's spirit and dream alive, applauding their commitment to peace, justice, diversity, equality and social change.
The 2019 celebration, Music and the Movement, will feature Ron Miles, MSU Denver director of jazz studies, as well as honor four people representing MSU Denver's faculty, staff, student body and greater community. Learn more about this year's honorees below, then join the Metropolitan State University of Denver community Jan. 18 at the 2019 MLK Peace Breakfast. Tickets are available, and faculty, staff, students and community members are invited to attend.
2019 MLK Peace Award Winners:
Rebecca Dobbin, program assistant, CLAS
Rebecca Dobbin is the embodiment of the Martin Luther King Jr. Peace Award. To her, social justice is recognizing the individuality and dignity of everyone. She acknowledges that social justice is more than just attitudes — it is taking action to foster those attitudes of respect and equity. She illustrates the idea that change comes from being an example. Dobbin's dedication to the cause is evident in her everyday actions, in her kind words to others, in her listening ear and in her showing compassion for those she interacts with daily. Just as not all heroes wear capes, not all dedication is seen through grand gestures. For Dobbin, it is through love, humility and the quiet consistency of her nature.
Wilton Flemon, Ph.D., professor, chemistry
Flemon is a paragon of commitment to social justice and an institution at MSU Denver. He believes that students become well-rounded citizens who benefit society at large when they encounter diverse perspectives in and outside the classroom from a wide range of faculty with a variety of lived experiences. From starting what is now the Africana Studies Department to co-founding the Colorado Wyoming Louis Stokes Alliance for Minority Participation program for underrepresented populations in STEM fields, the Rachel B. Noel Visiting Professorship and the Faculty Senate postdoctoral fellowship that bears his name, to pioneering online education and more, Flemon has dedicated his career to transforming education.
Virginia Castro, community activist and partner in MSU Denver's Richard T. Castro Distinguished Visiting Professorship
Castro humbly says all of her work "comes from the heart." After her consciousness had been awakened during the Chicano Movement, she became critical of the many injustices in society; she realized that she needed to act upon her world. On this day of reckoning, she began the life of an activist. At the crossroads, she knew she could no longer sit idly by as injustice continued. She realized that her commitment to create social change needed to come alive through nonviolence. Castro had lived with injustice and witnessed it in the communities where she lived. She believes it is an injustice when someone in this society is deprived of human and/or civil rights. Her commitment and dedication to social justice stem from the continued assault of children and families being disrespected, mistreated and discounted in society. She is convinced that through mutual cooperation, human beings can create a just world where we can live in peace and harmony.
Tammy Garrett-Williams, author, senior pastor at Transformed Ministries, founder of Above Waters Project
Rev. Tammy Garrett-Williams is a person of integrity and character. Her leadership skills are immense, contributing to her direction of the Above Waters Project and her comprehensive approach to effectively help so many people turn their lives around. She is a member of the Greater Metro Ministerial Alliance and serves as its vice president for political affairs. She is also secretary for the State Conference of the NAACP for Colorado, Montana and Wyoming, and was a founding member of the Black Lives Matter movement in Denver. She advocates for people who are in community corrections facilities and against mass incarceration. She has served on the Denver HIV Planning Council and fights for social justice for all people. She has received awards from Colorado Black Women for Political Action, the NAACP, the Colorado Black Legislative Caucus and the Colorado Black Roundtable and is the author of the book "Invisible Handcuffs."
Edit this page