November
MSU Denver honors our student and employee veterans
Join Veteran and Military Student Services in saluting service members, and see how MSU Denver is shining a spotlight on their experience.
November 12, 2018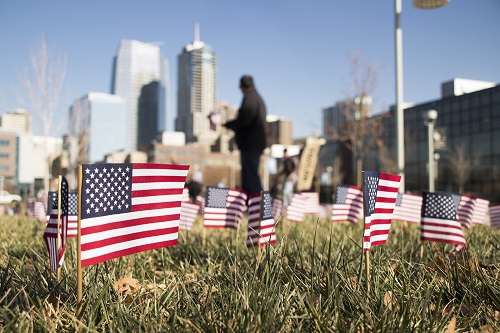 Today, Metropolitan State University of Denver recognizes the many faculty, staff and students across campus who are active military members or veterans.
In honor of Veterans Day, please join Veteran and Military Student Services for a tri-institutional celebration featuring food, fellowship and a keynote address from "Semper Sarah" Plummer Taylor, a twice-deployed U.S. Marine Corps veteran, service-related trauma survivor, author, yoga instructor and social worker.
11 a.m.-noon

Tivoli Turnhalle

Open to all campus community members
Veterans are also invited to check out a number of events designed to build community and connections happening through the week.
Learn more about active military and veteran Roadrunners who are making their mark locally and globally, and driving important conversations about the veteran experience.
Missing in Action: Support for female veterans
As women become a larger part of active military and veteran populations, services for them lag behind. A new scholarship hopes to help.
When disaster hits at an airport
MSU Denver graduate, U.S. Marine Corps veteran and airport emergency manager Jason Alvero details how often-predictable events can unfold after a shooting.
From the military to medicine, still serving
Here's how the new Forever G.I. Bill supports Navy veterans and MSU Denver students Alvin and Eun Hye (Grace) Bush as they transition to civilian health-care professionals.
Connection through brew, locally and globally, helped Air Force veteran and Roadrunner Chris Thibodeau discover a cure for what ales you.
Roadrunners Give Back Day goes to the dogs.
Reboot camp: Cybersecurity education for vets
A collaboration among Palo Alto Networks, the State of Colorado and MSU Denver serves a growing workforce opportunity.
Veteran turned student wins the war for his future
When Student Government Assembly President and Marine Corps veteran Justin Darnall left the military in 2012, he traded one war for another: the war for his future.
Active duty and academics coexist for MSU Denver students who deploy across the globe.
Edit this page