October
Interdisciplinary teaching from classroom to community
Engineering and integrative health programs combine forces to serve Indian residents affected by industrial disaster, and you can help.
October 9, 2018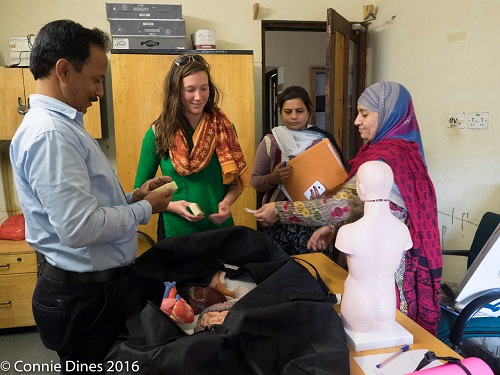 Metropolitan State University of Denver's Mechanical Engineering Technology and Integrative Health Care programs are very different. The contrasts among subject matter, student profile and even location on campus are distinct, but in one way the programs are similar: Each teaches students to be innovative problem-solvers.
Aaron Brown, Ph.D., professor and department coordinator for Mechanical Engineering Technology, and Emily Matuszewicz, associate professor in the Integrative Healthcare Program and interim MSU Denver Health Institute director, have joined forces to teach at the intersection of humanitarian engineering and integrative health.
"It would be natural to do an interdisciplinary class with a closely related field, but what makes this so unique is that we're in very different disciplines," Matuszewicz said. "Culturally, it's almost like the right and left brains coming together; those intersections are … where you breed the greatest degree of innovation."
The joint course focuses on the lasting effects of the 1984 industrial disaster in Bhopal, India, when 40 tons of toxic gas released from the Union Carbide factory killed thousands of residents. Coming at the catastrophe, which is considered the worst industrial disaster in history, from two perspectives allows students to look at cause and effect.
Brown explained that, today, many of the problems Bhopal residents face healthwise are related to contaminated water. As such, the course examines not only the body's response to the contamination and how to treat it but also how the water was contaminated from an engineering standpoint.
"Watching the Integrative Health students influence the way the engineering students think, and vice versa, is pretty exciting," Brown said. "Engineering fundamentally is problem-solving, and Integrative Health is problem-solving. They might be different types of problems, but there is overlap."
Before the students leave for Bhopal on Dec. 27, they'll also host the Sambhavna Gala fundraiser to support the Bhopal free clinic, which serves survivors, and to defray travel costs. The students are responsible for organizing the gala, which will be held Oct. 14 from 5:30 p.m. to 10 p.m. at Westwoods Community Center Church.
"We're going to be living, working and doing service learning at the clinic, and our dollars make a big difference," Matuszewicz said.
The gala also makes a big difference for MSU Denver students, many of whom cannot typically afford international service-learning experiences.
MSU Denver faculty, staff and supporters are invited to join in the Sambhavna Gala, which will include dinner, drinks, entertainment and a silent auction, as well as more information on the Bhopal disaster and how MSU Denver students hope to make an interdisciplinary impact.
For tickets to the gala or to make a donation to support this service-learning work, please visit the gala website.
Edit this page