October
What you missed at the Inclusive Leadership Summit
150 faculty and staff members participated in second annual gathering in support of student success.
October 30, 2018
If you couldn't attend Metropolitan State University of Denver's second Inclusive Leadership Summit on Oct. 12, you missed a lot. The event attracted about 150 faculty and staff members from across the campus who together built a road map for developing processes and policies to advance student success.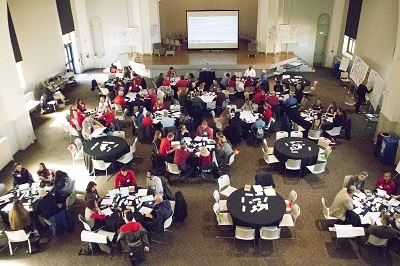 President Janine Davidson, Ph.D., said she was pleased with the success of the summit and to see the tenets of inclusive leadership taking root across all levels of the campus — adding that inclusive leadership is how MSU Denver realizes the shared-governance model.
Putting ideas to action, attendees participated in leadership-development discussion, learned about Davidson's inclusive-leadership vision and engaged in interactive sessions focused on advancing student success and retention.
Speaking at the summit, Davidson referenced tennis great Billie Jean King, who said, "It is important to keep your eye on a single ball" to become a champion. Likewise, Davidson wanted Inclusive Leadership Summit attendees to focus on a single "ball": student success. As student success — specifically with regard to increasing retention and graduation — is the University's center of gravity, all faculty and staff have a part to play in contributing to this goal.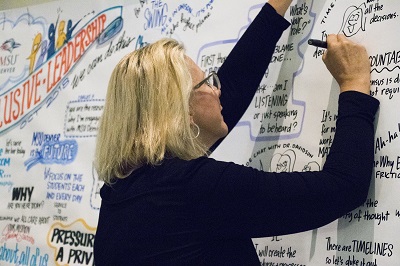 The event culminated in the creation of 14 new Transformational Sustainability Teams. The teams will meet regularly throughout the coming year to research issues related to helping students meet their academic and degree-completion goals. Teams will communicate their progress to colleagues and students throughout the year, but there are still opportunities to learn about inclusive leadership for those who couldn't attend.
"The summit website will be active throughout the year to communicate information about inclusive leadership and will house the inclusive-leadership toolbox, providing a framework for people to practice inclusive leadership," said Myron Anderson, associate to the president for diversity.
Edit this page