October
Know what to do in an emergency
Upcoming trainings offer safe intervention tips, CPR skills and more.
October 3, 2018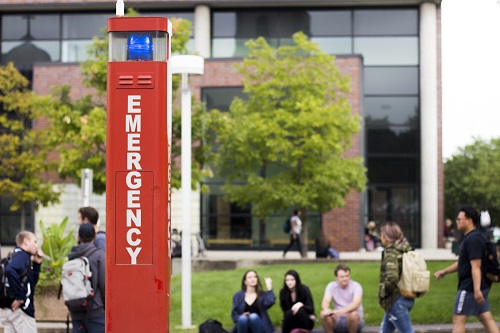 If you encountered an active-shooter scenario, an interpersonal conflict or someone experiencing a medical emergency, would you know how to respond? Upcoming classes can ensure that no matter the situation, you are prepared to protect yourself and assist others.
Bystander Intervention
This workshop guides participants in developing strategies to intervene in difficult situations. The focus is on incidents of stalking, sexual assault and relationship violence, but the principles and methods taught can be applied broadly.
The training will take place Thursday from 9:30 a.m. to 11 a.m. in the Jordan Student Success Building, Room 324. Contact Mark Pokorny for more information.
Emergency Preparedness Training
The American Red Cross is hosting free emergency-preparedness trainings for students, faculty and staff, also in SSB 324. Seating is limited; email Samantha Atkins to reserve a seat.
Hands-only CPR and Disaster Behavioral Health: Oct. 11, 9-10 a.m.
Active Shooter Training and Disaster Behavioral Health: Oct. 18, 9-11 a.m.
Edit this page