October
MLK Peace Award nominations due Nov. 1
Celebrate those who exemplify the ideals of the Rev. Martin Luther King Jr. by suggesting them for the 2018 honor.
October 17, 2018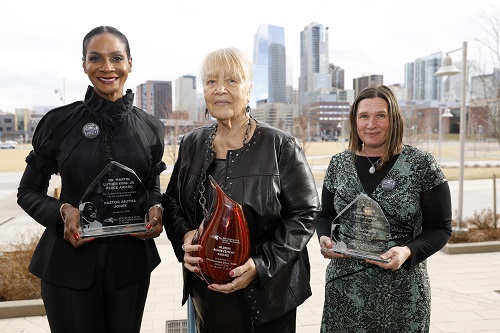 The 2018 MLK Peace Award annually recognizes a Metropolitan State University of Denver student, faculty or staff member, or member of the Denver community, whose commitment to service and activism has helped promote King's vision for civil rights and social change.
Nominations are due Nov. 1, and awards are granted based on a person's community activism, advocacy and depth of involvement.
Award winners will be announced Jan. 18 at the Peace Breakfast, which celebrates the life, legacy and ideals of King as well as those keeping his spirit and dream alive.
Nominations must address each of the following criteria:
Community Activism: In what ways is the nominee involved with the community? How do those actions promote peace, justice and compassion for all people?
Advocacy: For whom is the nominee advocating through his/her community involvement? How wide is this nominee's scope?
Depth of Involvement: How long has the nominee been committed to his/her cause(s)? To what extent is the nominee involved with the cause(s)? In what ways is the nominee's dedication to the cause(s) evident?
Visit the MLK Peace Breakfast website for more information.
Edit this page