October
Inside the President's Cabinet
Four recommendations from the President's Advisory Council on University Policy and other updates.
October 11, 2018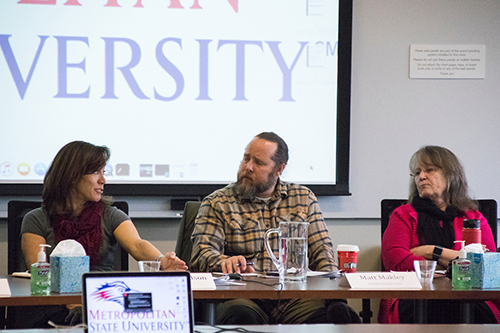 Couldn't make it to the Oct. 10 President's Cabinet meeting? The Early Bird has you covered.
The President's Advisory Council on University Policy presented recommendations on four board-level policies, represented by co-leads Sheila Rucki, Ph.D., professor in Metropolitan State University of Denver's Department of Political Science, and Nick Stancil, deputy general counsel.
The four policies were:
Policy and Procedure Enactment – Essentially the "policy on policies," this revision to an existing policy defined the process to establish, amend and archive policies governing the administration and operation of the University. Layton Curl, Ph.D., professor and chair of the Department of Psychology and president of the Council of Chairs and Directors, started a conversation that led to the suggestion to provide clarifying language indicating one of the Advisory Council co-leads should be a "…tenured faculty member, preferably a full professor."
Academic Policy Enactment – This is a new policy which defines academic policy and establishes the Faculty Senate as the primary review body for them (as opposed to the Policy Advisory Council). It also delegates approval of such academic policy to the provost. Both Curl and Faculty Senate President Matt Makley, Ph.D., provided procedural recommendations to encourage issue resolution at the ground level.
Faculty Employment Handbook Committee – This new policy, based on AAUP guidance, best-practice and faculty input, separates the faculty employment handbook from the non-faculty employment handbook. It also establishes a permanent faculty employment handbook committee, along with prescribing timelines and benchmarks for annual review and finalization of the handbook.
Freedom of Expression Policy – This is another new policy, intended to affirm the Board of Trustees' commitment to freedom of expression and assembly. It also serves as an umbrella policy on future policies to be proposed relating to political activity and lobbying, demonstrations and protests, and social-media use.
In describing the policy making process, Rucki said, "The ideas are generated by the University community. We're not the gatekeepers here."
President Janine Davidson, Ph.D., also noted how the priority is to place leadership at the grassroots level while equipping individuals with the comfort and agency to make decisions.
"It's impossible to imagine every single issue," Davidson said. "Policy-wise, that means less, not more… it's about empowering people to make the leadership decisions – not a computer or an algorithm."
Rucki detailed the next steps the Policy Advisory Council will take in the coming months, including a review for technical updates and revisions to the Board of Trustees' manual, followed by a more detailed review and recommendations for proposed substantive changes to Board-level governance policies and the President's operational policies. Additionally, the faculty employment handbook committee should be created and up and running by Jan. 1, 2019.
Davidson then thanked the group for its work.
"This was an awesome job on important work," she said. "The process is clear, it's exactly what we should do. Well done."
Provost Vicki Golich, Ph.D., then discussed the policy on promotion from associate professor to full professor for faculty members who also hold an administrative post. She noted how it's a rare situation, but the absence of a current policy necessitated establishment.
The recommendation, as vetted through the Council of Chairs and Directors and the Faculty Senate, was for the faculty member moving into an administrative role to consult with whoever is the appointing authority on expected teaching and scholarly requirements as delineated if attempting to move forward in rank, tied to department guidelines.
After further discussion on cross-level compensation and grandfathering, the policy is headed back for further consideration before being implemented.
"Policymaking is a living process," Davidson reminded attendees. "It refreshes itself – and when that happens, we pull the ornaments off the tree to re-examine where we're at and where to go next."
And other updates:
Davidson lauded MSU Denver's partnership with Colorado Northwestern Community College, which affords aviation students greater access to log required flight hours. "We're putting our heads together with community colleges to benefit our students; more to come there soon," she said.
Davidson also thanked School of Education Dean Liz Hinde, Ph.D., for her work chairing the search committee for the vice president of Advancement, in its final stretch. The search also is kicking off for the full-time COO/vice president of administration and finance; the search for the president's executive assistant also is still open.
Barbara Beatty, University ombuds, received a proclamation from Gov. John Hickenlooper, also signed by Denver Mayor Michael Hancock and delivered by Davidson, in honor of National Ombuds Day (see today's Early Bird story).
Davidson and Associate to the President for Diversity Myron Anderson, Ph.D., encouraged everyone to attend the Inclusive Leadership Summit on Friday, noting the two registration options.
Vice President of Strategy Cathy Lucas introduced Cora Zaletel as the acting associate vice president of Marketing and Communications, joining MSU Denver from Colorado State University – Pueblo; Lucas also noted the launch of the fall Run Your Own Road advertising campaign, which is showing up in billboard, transit, print and digital formats.
Interim Vice President for Administration George Middlemist provided updates that program plans are coming together for the Classroom to Career Hub and Health Institute; additionally, the HLC@Metro Inc. Board met Monday and approved a seven-year budget refresh as required by Marriott to maintain standards.
Middlemist also noted that letters addressing the compensation and stipend situation should be hitting employee mailboxes around Monday; two separate deposits are planned, as the stipend isn't eligible for retirement matching and to correctly record tax implications in the electronic payroll system.
Hinde highlighted the upcoming Richard T. Castro Distinguished Visiting Professorship taking place Oct. 25, the Women in STEM conference Oct. 26, the current "sugar bound" exhibit at the Center for Visual Art and various ongoing music recitals throughout the semester.
Student Government Assembly President Justin Darnall reported SGA outreach events are well-attended and that the organization is working tri-institutionally on addressing the statewide RTD fee increases slated for next year.
Makley recounted that the Teaching Excellence Award winners were recognized at the last Senate meeting (see today's Early Bird story) and that conversations continue around the proposed academic restructuring.
Council of Administrators President Evan Bowles shared that there will be an open feedback forum with the Classified Staff Council to discuss combining the groups and including student employees; the next scheduled meeting is Oct. 18.
Athletic Director Anthony Grant, Ph.D., reported the many things happening in Roadrunner Athletics. This included a recent cross-country meet at 5K and thanking the approximately 50 faculty and staff who participated, the upcoming basketball kickoff luncheon at Blake Street Tavern on Thursday at noon in lieu of a formal media day, the volleyball competition taking place highlighting National Hispanic Heritage Month, Hall of Fame induction and upcoming soccer matches. More information is available on Athletics' website.
Chief Information Officer Kevin Taylor noted there is more information to come on changes involving multifactor authentication, Outlook upgrades and Banner 9, which is in final user-acceptance testing before rolling out modules.
For those who can't attend Cabinet meetings, you can always listen online.
Edit this page