October
This service could save your work life
Today, honor the first Ombuds Day by learning more about this valuable MSU Denver resource.
October 11, 2018
Y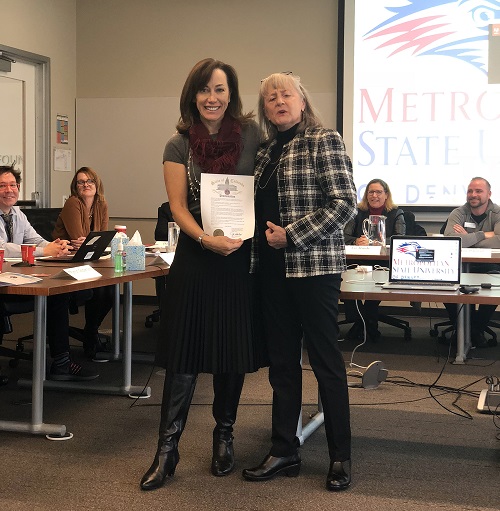 ou might not have known that October is Conflict Resolution Month, or that this happens to be National Mediation Week, but today, take a moment to honor the first Ombuds Day.
Ombuds Day was founded to celebrate the ombuds profession and to raise awareness of the valuable alternative dispute-resolution services that ombuds provide. Metropolitan State University of Denver President Janine Davidson, Ph.D., marked the occasion with a proclamation during the President's Cabinet meeting Wednesday, and Mayor Michael B. Hancock and Gov. John Hickenlooper have honored the day at the local and state levels.
"Fundamentally, we provide a safe and confidential place to work out conflict, and informally, we try to help people find a fair process," said MSU Denver Ombuds Barb Beatty.
Beatty joined MSU Denver in April but throughout her career has helped people navigate some challenging dynamics, including figuring out how to get on the same communication wavelength with a boss, helping new supervisors understand how to address power imbalances and helping employees work through conflicts with organizational policies or procedures. Conflict that goes unaddressed or undiscussed can have regrettable consequences such as an employee leaving a job or ending a professional relationship with a colleague.
"It seems that society in the past 20 years or so hasn't really been teaching us how to get along with people; we're sort of in extremist mode," Beatty said. "With the rate of change spinning ever faster, we are all going to have to learn to be flexible in the workplace, which means learning to work with people with widely different viewpoints – people who aren't going to be our best friends. That's where conflict communication strategies can be invaluable."
Ombuds help people by offering a safe, impartial and confidential environment, allowing colleagues to work through interpersonal and communication challenges. For instance, Beatty doesn't keep records of conversations beyond basic statistics and does not maintain identifying information.
"The only time ombuds break confidentiality is if we are concerned about imminent harm to self and/or others," she said.
For those who are struggling with interpersonal work relationships or other challenges, Beatty stresses that the ombuds is a great place to find support.
"Even though we're all adults and we want to work out our own problems, if a concern lingers for a week or so, come talk," Beatty said. "We don't want to lose good employees; we want a well-functioning, inclusive team supporting each other as the University grows."
Coming to the ombuds is voluntary; however, if you have a co-worker or subordinate who asks you to have a facilitated conversation with them with the ombuds present, Beatty hopes you will say yes. Meetings are not about calling anyone out but about trying to improve dialogue.
"It's not about people being right or wrong – I don't even use those terms," Beatty said. "It's about helping people communicate so that they have shared meaning."
To make an appointment, or just to chat with Beatty about her services, call her at 303-615-2080 or email bbeatty1@msudenver.edu.

Throughout Ombuds Day, Beatty welcomes anyone curious or interested in her services to attend an informal open house at her office, Central Classroom Room 306.
Edit this page