October
Hello, My Name Is … Haley Kline
The former student guides current Roadrunners through the financial-aid process using methods she learned in the biology classroom.
October 1, 2018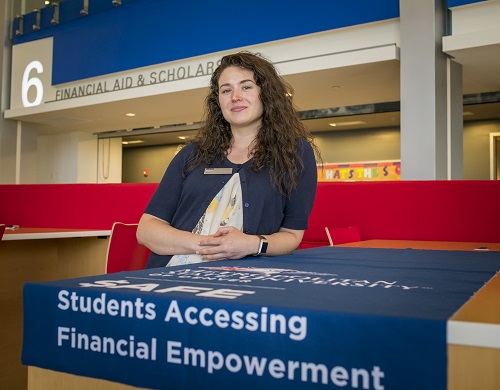 If you ever need an anecdote about the impact of a Metropolitan State University of Denver education, Haley Kline's story is perfect.
After high school, Kline went straight into the workforce; she later enrolled in MSU Denver as a non-traditional transfer student. After graduating in 2014 with a degree in biology, she continued her higher-education career at the University of Illinois before returning to the Roadrunner nest in 2016 as a verification processor. Earlier this year, she was promoted to initiatives manager for the Office of Financial Aid and Scholarships.
A former student employee in the Office of Financial Aid and Scholarships, Kline today helps students navigate the sometimes-overwhelming world of loans and scholarships. She's also found innovative ways to apply her scientific mind to empowering students with financial education through the $AFE program. Kline spoke with the Early Bird about why she's passionate about her work, how her biology degree still comes in handy and about one fascinating fish.
What was one of the most interesting things you experienced as an MSU Denver student?
One of the coolest things I participated in was a Biology Department trip to India with Professor Robert Hancock, Ph.D. I researched the Bluestreak cleaner wrasse, Labroides dimidiatus, this tiny fish that swims into the mouths of other fish, even predatory fish, to eat parasites and clean away dead scales. They're sequential hermaphrodites, so they can go from female to male.
Is there any connection between biology and working in financial aid?
Yes, actually. Evidence-supported policy is something I really care about. As I build initiatives for $AFE, I don't want to do something that just sounds good; I want to do something I know statistically has positive outcomes for students. One of the things I love about working here is that I have access to the Auraria Library. I can read academic research about learning, retention and what actually helps students make better and healthier decisions.
(Understanding human biology and behavior and) the scientific method also helps me highlight logical fallacies. Essentially, if our brains put 100 percent into every decision we make, we'd be exhausted. So our brains take shortcuts and reference the most recent information we've received. Unfortunately, some of those shortcuts apply to financial decisions. (Because of this, I want to make) sure the information students reference is the right information and what they need to make the best decisions financially.
Why is this work important to you?
I hope to reach students who are thinking about borrowing, or have borrowed for the first time, and help them think about repayment now. Because I work in financial aid, a lot of people volunteer their frustrations to me (about the student-loan industry, repayment and what they wish they had known as a student). In my family, we rarely had conversations about money. I think that's true for a lot of students. Personally as a student, I didn't really know what FAFSA was — and actually went to a fraudulent site when I first tried to fill it out — (so I care about) protecting students. I'm sometimes surprised by how many students aren't even aware of the general MSU Denver scholarship application or don't realize they need to complete a new FAFSA each October.
How can faculty and staff be allies for students when it comes to financial aid?
It's about word of mouth right now. I would appreciate faculty and staff talking to each other about $AFE and then talking to students as well. The Don't Cancel That Class program is also something we're really hopeful about.
What keeps you busy outside of work?
Being outside and hiking as much as possible. Living in the Midwest for two years made me really miss Colorado. Once I moved back, I swore to never take it for granted. I did Mount Quandary recently as part of a hut trip, and I'm trying to get into road cycling.
Edit this page