September
You are welcome here
Inaugural Queer Faith Conference seeks to create more inclusive and affirming religious, spiritual spaces for LGBTQIA+ community.
September 26, 2018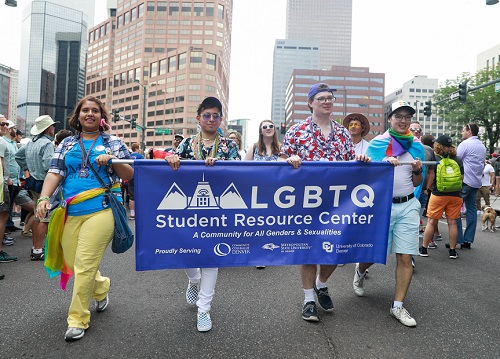 The first You Are Welcome Here conference aims to truly deliver on its name. The interfaith event, sponsored by the Auraria Campus' LGBTQ Resource Center and a number of community partners, offers those who have been historically unwelcome in religious and faith communities an opportunity to share their faith and faith experiences in an inclusive and supportive environment.
The event is open to all faculty, staff, and students and will provide resources for LGBTQIA+ community members while also helping to increase visibility and support for affordable, LGBTQIA+-informed mental-health organizations. Additionally, organizers are ensuring that the conference serves as an advocacy platform and resource for LGBTQIA+ immigrants, international students and refugees, while also providing free on-site support sessions — allowing attendees to connect with therapists.
"You Are Welcome Here is the product of many communities wanting to create a space of love, hope and community for folks who have often been denied entry to love, hope and community," said event founder Jazz Fitzgerald. "This conference has been built by many on behalf of many — all in love and for love — and we're so excited to share this creation."
The conference will kick off Oct. 4 with a keynote address by Left Hand Church Pastor and President of RLT Pathways Paula Stone Williams titled "Faith and Inclusion in a Post-Truth Era." The day will end with poetry and reflection, with Azure Antoinette, poet, brand humanist and creative strategist. Brit Barron, spiritual director for The Christian Closet, will begin Day Two with her keynote "What the Miracles from the Bible Teach Us About Intersectionality," followed by an interfaith panel on queering religion and a keynote from writer Carrie Y.T. Kholi titled "The Way Forward is With an Open Heart: Spirituality as Necessity for Communal Futures."
Although for many the event will be very personal in nature, it also aims to inspire and equip faith communities to create progressive, inclusive and welcoming spaces for LGBTQIA+ community members. The hope of organizers is that the event will provide support and guidance for those who wish to create these affirming spaces.
Learn more and RSVP by visiting the conference website.
Edit this page