September
Because you deserve a little special treatment
Student-thespians and student-athletes honor MSU Denver faculty and staff supporters at appreciation events this week.
September 26, 2018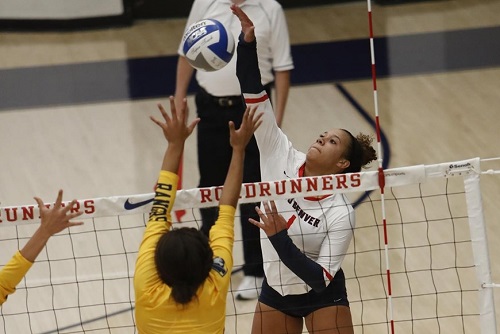 Metropolitan State University of Denver faculty and staff are often the most committed and passionate advocates for students. To show appreciation for this continued support, two departments are returning the favor with special events just for Roadrunner employees.
Enjoy a night at the theatre
Tonight, faculty and staff can enjoy a free performance of "The Drowsy Chaperone," a parody of American musical comedy of the 1920s. The story concerns a middle-aged, asocial musical-theatre fan. As the main character plays the record of his favorite musical, the fictional 1928 hit "The Drowsy Chaperone," the show comes to life onstage as he wryly comments on the music, story and actors.
This Faculty and Staff Appreciation Night performance begins at 7:30 p.m. in the Eugenia Rawls Courtyard Theatre in the King Center. While the performance is free, faculty and staff are asked to bring a nonperishable food item to donate to the Student Food Bank.
All who are interested should email Megan Euler or contact her by phone at 303-615-0393 to RSVP.
Cheer on Roadrunner Volleyball
Faculty and staff appreciation continues Friday as the Roadrunner Volleyball team welcomes faculty and staff for their match against the South Dakota School of Mines & Technology. Faculty and staff receive free admission for up to two people with their valid employee ID.
Team members will also take time during the game to recognize faculty and staff members who have supported the program. Honorees who have been personally invited by student-athletes will be invited to join in the team's starting lineup. Dedicated fans will hear how their support has helped members of the volleyball team thrive academically and on the court, as the team maintained the highest collective grade-point average in the Rocky Mountain Athletic Conference during the 2017-18 year.
"Our student-athletes benefit every day from an outstanding group of faculty and staff at MSU Denver," said Director of Athletics Anthony Grant. "This is our chance to recognize them publicly for everything they do to support students."
The match begins at 7 p.m. in the Auraria Event Center, and all are welcome.
Edit this page