September
Inclusive leadership includes you
Register today for one of two options at the Oct. 12 summit.
September 25, 2018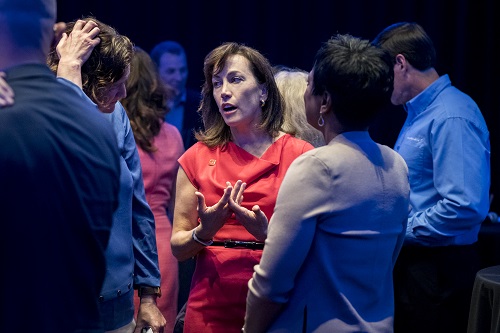 Imagine Metropolitan State University of Denver faculty and staff as one big team of leaders driven by a shared passion for diversity, inclusivity, transparency, civility and student success. That is inclusive leadership.
A leadership model, philosophy and set of skills all in one, inclusive leadership creates the environment of collaboration, innovation and trust that helps cultivate and harvest new ideas and innovative strategies to resolve issues and advance an organization's mission.
"President (Janine) Davidson believes that bringing more people to the table with diverse backgrounds and ideas will allow MSU Denver to have better results. She believes it's the future of solving problems and leading," said Myron Anderson, Ph.D., associate to the president for diversity.
The term might still seem a bit nebulous, but there are concrete examples of inclusive leadership all across the MSU Denver campus.
"The President's Advisory Councils and Budget Task Force are a great examples of inclusive leadership being put into action – bringing folks to the table, exchanging ideas, wrestling with some issues and making recommendations that the president can act on," Anderson said. "Work isn't being done in a vacuum but inclusively by a cross-section of the campus sitting around a table."
The tenets of inclusive leadership are useful for Roadrunners at every level of leadership.
"You're an inclusive leader by being accountable for your actions," Anderson said. "It's your openness to exchanging ideas, how you lead and attend meetings; it also can be forward-thinking and aggressive in a good way in terms of how you step up to the plate to solve an issue or offer an idea."
To learn more, join your colleagues Oct. 12 at MSU Denver's Inclusive Leadership Summit, a forum for bringing together people to learn about the approach and to practice the skills. The summit offers two options.
Option 1 invites attendees to dive into a full day of learning and activities. Additionally, these participants have opportunities to share their perspectives and feedback on issues facing the University as part of the Transformational Sustainability Team. The TST continues the inclusive-leadership developmental process, meeting regularly, and plays a key role in the campus inclusive-leadership integration plan.
Anderson added that attending the full day gives participants in-depth knowledge of inclusive leadership as well as the tools for practicing the approach and engaging with other attendees. "You become an advocate on campus," he said.
Option 2 is a more condensed experience that offers a crash course in inclusive leadership and the opportunity to share ideas and engage in brainstorming activities to help solve problems and support student success.
Both options are free to all MSU Denver faculty and staff. Full-day attendees will begin at 8 a.m. at St. Cajetan's Event Center; half-day attendees will join in from 2 p.m. to 5 p.m. Register now to secure your seat as space is limited.
"The goal is for the entire institution to become inclusive leaders and practice that philosophy," Anderson said. "The summit is just one way to sharpen your saw and to engage with each other. Once you learn the tools, skills and abilities, you can be an inclusive leader."
Edit this page