September
Announcing this year's faculty tenure and promotions
Join fellow faculty and staff in celebrating Roadrunners on the rise Oct. 3.
September 24, 2018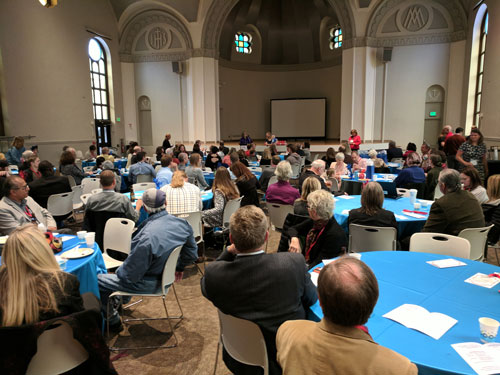 The Office of Academic Affairs will host the annual Tenure and Promotion Reception on Oct. 3 from 5 p.m. to 7 p.m. at St. Cajetan's Event Center.
The event honors faculty members who received tenure and/or promotions during the past year. All faculty and staff are welcome to attend and celebrate their colleagues' achievements.
RSVP now to reserve your spot at the party. Contact Ann Sanders, executive assistant to the provost/executive vice president, or Kaitlin Pace, office manager for the Office of the Provost and Academic Affairs, with any questions.
Assistant Professor to Associate Professor Promotions:
Michael Bernhardt, Art
Nicolas Cachanosky, Economics
Krista Fiedler Griffin, Elementary Education and Literacy
Megan Filbin, Chemistry
Sergio Gallegos, Philosophy
Elizabeth Goodnick, Philosophy
John Hammond, Journalism and Technical Communications
Christopher Harder, Mathematics
Tricia Hudson, Human Services Professions
Matthew Jenkins, Art
Gabrielle Katz, Earth and Atmospheric Science
Brenden Kendall, Communication Arts and Sciences
Jason Kolts, Biology
Chalane Lechuga, Chicana/o Studies
Katherine Martinez, Gender, Women and Sexuality Studies
Emily Matuszewicz, Health Professions
Jeffrey Parker, Theatre
Emily Ragan, Chemistry
Amanda Schaeffer-Fry, Mathematics
Corey Sell, Elementary Education and Literacy
Kathryn Trujillo, Social Work
Helene Ver Eecke, Biology
Associate Professor to Professor Promotions:
Shamim Ahsan, Environmental Science
Dawn Apryl Brodersen, Management
Aaron Brown, Mechanical Engineering Technology
Lynann Butler, Human Services Professions
William Carnes, Management
Diane Davis, Mathematics and Computer Science
Amy Dore, Health Care Management
Andrew, Evans, Earth and Atmospheric Science
Tina Herring, Special Education, Early Childhood, and Culturally and Linguistically Diverse Education
Christina Huber, Economics
Ibon Izurieta, Associate Dean, College of Letters, Arts, and Sciences
Christopher Jennings, Journalism and Technical Communication
Mary Beth Krueger, Music
Jeffrey London, Criminal Justice and Criminology
Scott Lubinski, Chair, Theatre
Kathleen Luttenegger, Elementary Education and Literacy
Elizabeth McVicker, Management
Richard Moeller, Political Science
Andrew Muldoon, History
Sam Ng, Meteorology
Letitia Pleis, Accounting
Robert Preuhs, Political Science
Nina Radojevich-Kelley, Management
Jessica Rossi-Katz, Speech Communication
Sheila Rucki, Political Science
Shaun Schafer, Chair, Journalism and Technical Communication
Peter Schimpf, Chair, Music
Pamela Troyer, English
Roger "Kip" Wotkyns, Journalism and Technical Communication
Adriann Wycoff, Chicana/o Studies
Hsin-Te Yeh, Secondary Education, K-12 Education and Educational Technology
Edit this page