September
Jared Polis, Leslie Herod to headline Friday's diversity summit
Event offers a full day of engaging inclusiveness talks – and you can attend for free.
September 20, 2018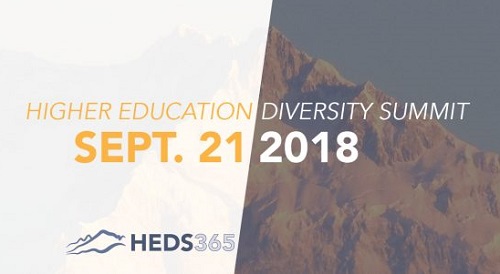 Metropolitan State University of Denver has never been more diverse. Today, students of color comprise 44.7 percent of the student body, a 2.7-percentage-point increase from last year, and the University has achieved a 95 percent retention rate for faculty of color. These are fantastic achievements in diversity and inclusion, but according to Myron Anderson, associate to the president for diversity, we still have work to do. Friday's Higher Education Diversity Summit in the Tivoli Student Union is a perfect place to start.
HEDS, hosted collaboratively with Community College of Denver and the University of Colorado Denver, works to promote and increase professional-development opportunities that focus on inclusive excellence through the lenses of diversity, access, LGBTQ issues and the two-year college experience.
The annual event attracts higher-education professionals from across the country, and this year includes an outstanding lineup of speakers and sessions. State Rep. Leslie Herod, D-Denver, will present the morning keynote, and U.S. Rep. and gubernatorial candidate Jared Polis, D-Boulder, is the featured lunch keynote speaker. Throughout the day, attendees can also visit the ArtAbility Exhibit and participate in sessions on homelessness, everyday advocacy, deconstructing bias, supporting multiracial students, advocating for DREAMers and more.
Anderson works with diversity officers from CCD and UCD to lead the event, along with a committee representing all three institutions. On average, the summit offers about 30 sessions, including the popular HEDS Talks, a creative spin on TED Talks that allows space for audience reaction and discussion.
"The key is to have everything focus on inclusive excellence and engaging dialogue in the diversity and inclusion space," Anderson said. "One of the requirements of the presentations is to have engaging activities. It's not just talking heads presenting research; it's about what you are doing that can be applied next week."
The event is free for MSU Denver, CCD and CU-Denver students, faculty and staff. Professors are especially encouraged to bring their classes to sessions that align with their content areas as well.
"We need to keep moving and working because inclusivity and inclusive excellence take time and work; it's continuous," Anderson said.
Edit this page