September
Come say hello to CESA
You're invited to a Community Welcome event Sept. 25 to learn about all CESA services and to get your very own Equity Toolbox.
September 20, 2018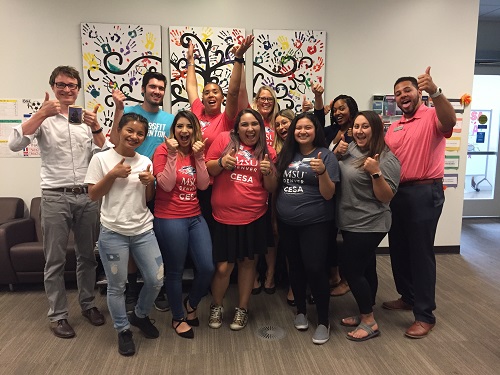 The Center for Equity and Student Achievement's doors are always open, and Sept. 25 faculty, students and staff are invited to reacquaint themselves with everything the center has to offer.
CESA will host a Community Welcome from 10 a.m. to 1 p.m. on Tuesday in the Jordan Student Success Building, Room 237. Faculty and staff are encouraged to stop by not only for a friendly chat and a sweet treat but also to learn more about CESA's services, resources and mission to support students and promote equity and inclusion. CESA staff have even created an Equity Toolbox to give Community Welcome visitors a set of skills, ideas and resources to increase equity on the Metropolitan State University of Denver campus and in their own lives.
But it's a two-way conversation.
CESA primarily serves students of color and historically underrepresented and marginalized students through eight programs and initiatives. As nearly 45 percent of Roadrunners are students of color, and nearly 50 percent identify as first-generation college students, the CESA staff wants to hear from staff and faculty about their work and goals around equity as well. The Community Welcome provides an opportunity for CESA staff to learn what "equity" means to the MSU Denver community and to spread the word about helpful resources, upcoming Microaggression Awareness and Safe Zone trainings and more.
If you work with students or want to support student success, stop by and see how you can help become a resource for Roadrunners. Visit the CESA website or contact Amber Mozet for more information on CESA services and the upcoming Community Welcome.
Edit this page