September
Dan Baer shares his vision for the CDHE
The new Colorado Department of Higher Education executive director talks about increasing credential attainment, erasing the equity gap and more.
September 19, 2018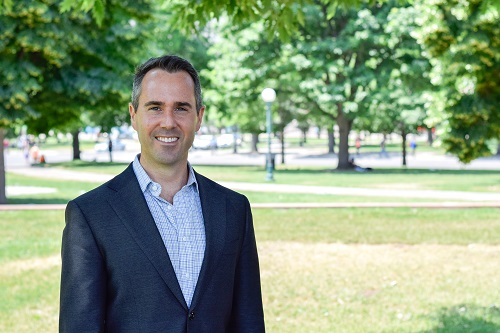 When Dan Baer, Ph.D., became executive director of the Colorado Department of Higher Education in June, he inherited an ambitious master plan. However, the former U.S. ambassador to the Organization for Security and Cooperation in Europe and deputy assistant secretary of state for Democracy, Human Rights and Labor was ready for the challenge.
Baer's own experience in higher education includes earning degrees in social studies and African American studies from Harvard as well as a doctorate in international relations from Oxford. The Colorado native also served as an assistant professor at Georgetown's McDonough School of Business and as a faculty fellow at Harvard's Safra Center for Ethics. He now returns home to lead the advancement of the Centennial State's higher-education institutions.
Baer spoke with the Early Bird about progress toward the CDHE's goal of 66 percent post-high-school credential attainment.
Based on current projections, is Colorado on track to reach 66 percent post-high-school credential attainment by 2025?
Since our 2012 Colorado Competes master plan first articulated the goal of 66 percent, we rose from 53.5 to 56.2 percent attainment in 2018 ... but we can't just stay the course. If current trends continue, we won't make our 66 percent attainment goal; that's why we're working with our institutions and state partners to ensure we meet the targets and indicators outlined in the master plan and help more Coloradans to find an education and training pathway that suits their talent and interests.
How was the eight-year time frame for measuring credential earnings selected?
We wanted a time period that would allow new approaches and initiatives to have some impact but not so far out that we could feel complacent.
Addressing the growing shortage of educators was key to Strategic Goal No. 1. Has the needle moved in terms of students completing degrees in education or entering education programs?
It's still too early to tell. In December, we issued a strategic plan and report to address the teacher shortage. In 2018, the General Assembly passed H.B. 18-1332, "Concerning Creation of a Grant Program to Support Collaborative Educator Preparation Initiatives to Address the Teacher Shortage in Colorado." The bill provides $2 million to invest in partnerships among educator-preparation programs and local education providers to invest in initiatives that address teacher shortages – particularly in rural Colorado. We're also gathering information from our initiatives to see what is working and establish best practices.
In the past several years, MSU Denver and other institutions have made significant investments in preparing students for STEM-related fields. Does the state have any data linking these STEM investments to increased enrollment or retention?
STEM is a priority area within the department because we know Colorado has more STEM jobs than average and is specifically called out in our master plan. In our targets and indicators in Strategic Goal No. 1, we aim to increase high-demand credential completion by increasing STEM credentials, including health care, from 12,500 to 14,500 by 2025.
What barriers do those who do not seek a degree or certificate consistently reference?
There are many barriers; here are a few we hear consistently:
We know that if we want to close the equity gap, we must close the belief gap. There are many students who may doubt their own abilities and talents, or who doubt whether post-secondary education options are accessible and affordable. There are also cultural issues at play too, students struggling to beat the odds: students who are food- and housing-insecure, single moms, Deferred Action for Childhood Arrivals students, first-generation students and more. All of them perhaps from different geographic locations, different race, gender, but united in their quest for a better and brighter future through education.
Colorado ranks among the lowest states in per-student funding. In 2000, the state funded two-thirds of a student's cost of higher education, while the student was responsible for one-third. By 2016, that ratio had flipped; the state now funds only one-third.
We want to invest in Colorado's homegrown talent. So we need to ensure that we are not pricing our own students out of any opportunity for higher education.
How is the state working to energize first-generation students in particular?
Our Strategic Goal No. 2 is to erase equity gaps; we also see compounded gaps for those who are the first in their families to attend postsecondary education. We've made erasing these gaps our top priority. In a 2014 initiative called Colorado Completes, the Colorado Commission on Higher Education highlighted student-support programs at institutions across the state with demonstrated achievement in retaining and assisting minority, low-income and first-generation students to succeed. From first-year intensive coaching to peer advising to community-focused engagement of students, these efforts are showing success. Recently, we've embarked on an effort to highlight and share best practices from institutions on our website.
When former CDHE Executive Director Kim Hunter Reed first presented the current master plan in September 2017, she noted that the higher-education narrative has shifted from being seen as good for the community to being good for the individual. Are you working to balance these perspectives?
Our focus on equity and attainment is driven by the fact that we know that higher education is essential for individuals to have a shot at a middle-class life and essential to Colorado's economic future. We're in the business of building the 21st-century American dream, and that benefits each of us and all of us at the same time.
Have you set any particular goals for the evolution of CDHE?
I am focused on supporting the team at CDHE so that we can sustain and accelerate progress toward our Master Plan goals as the state goes through a gubernatorial transition. We are focused on making sure that CDHE is ready to continue to work with the next governor to make progress for all Coloradans.
What are your reflections on your position at this point?
Colorado has a collaborative, participatory culture. That means that every time there's a problem or a challenge, there's usually a group of people ready to work together to figure out solutions. It also means that "top down" management isn't very popular. So I am focused on working with key partners – in the private sector, other government agencies, nonprofits, legislators and others – to keep us moving forward toward shared goals. We are seen as setting an example for other states with our clear focus on closing equity gaps and making sure we have high attainment levels among all Coloradans. We are seen as at the vanguard nationally for the way that we are bringing work-based learning to our education system through apprenticeships.
Colorado is a forward-looking place. Unfortunately, as a country and as a state, our investment in higher education has not recovered from the effects of the Great Recession. We cannot continue to under-invest in higher education; we know the data show that investing has a great return. Colorado is a great place to live and work, but we need to continue to increase our investment and drive for high-quality outcomes if we want to lead the nation in the years to come.
How did you enjoy previously working with Metropolitan State University of Denver President Janine Davidson, Ph.D.?
I served as an ambassador in the Obama administration when President Davidson was undersecretary of the Navy. I have the highest respect for Janine – as a person, as a professional, as a patriot – and as a native Coloradan, I couldn't be happier to see her serving the community of my home state!
Edit this page