September
MSU Denver faculty in the media
Members share their expertise with the community.
September 11, 2018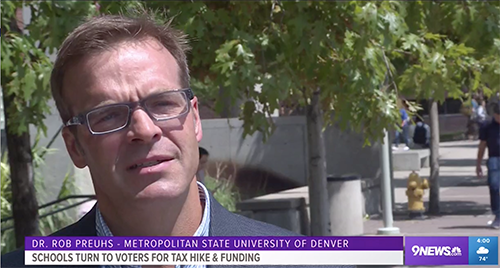 The MSU Denver faculty brain trust reaches almost every corner of the academic spectrum, and we are always proud to see Roadrunners sharing their knowledge.
Each month, the Early Bird highlights a few faculty members who have served as subject-matter experts on timely news topics – providing dynamic perspectives on critical issues. Here's a sampling from August:
Darrin Duber-Smith, senior lecturer of marketing, was interviewed Aug. 30 by NerdWallet for a story that appeared in USA Today about consumer purchasing tips for Labor Day holiday sales.
Denise Mowder, associate professor of criminal justice and criminology, was interviewed Aug. 23 by Denver7 and 850KOA about developments in the Watts family slaying investigation.
Lisa Badanes, associate professor of psychology, was interviewed Aug. 23 by 850KOA about the increasing mental-health needs of college students.
Rob Preuhs, professor of political science, was interviewed Aug. 22 by 9News regarding ongoing attempts by area school districts to increase funding through proposed tax increases.
Jeff Price, professor of aviation and aerospace science, interviewed Aug. 7 with the Chicago Tribune about how a drone rigged with explosives was used in a plot to attack Venezuelan President Nicolas Maduro.
For a full list of faculty featured as experts in the media, visit MSU Denver in the News.
Edit this page