September
Faculty Senate update
Recent meeting included a visit from President Davidson, a vote on academic policy and calls for committee participation.
September 11, 2018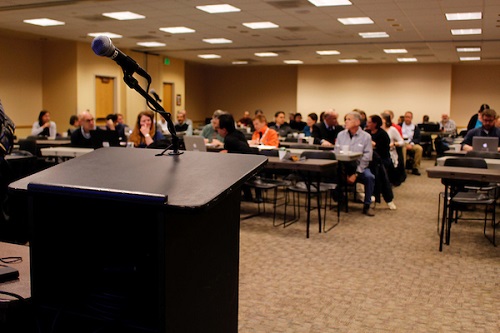 The second Faculty Senate meeting of the academic year began by welcoming Metropolitan State University of Denver President Janine Davidson, who invited attendees to Inauguration week events and thanked faculty members for their continued commitment before fielding questions from the floor.
When asked about the University's stance on supporting undocumented students, she responded, "It hasn't changed. … Historically, MSU Denver has led the way; we're standing firm and continue to advocate for our students."
Davidson and Provost Vicki Golich responded to a question about funding models for graduate-level programs, saying the University will examine data to determine what elements are working and which may benefit from revised approaches.
Matt Makley, professor of history and Faculty Senate president, then noted the benefits of ongoing institutional collaboration.
"It's about the work we do, and President Davidson has worked honestly and tirelessly to communicate that to both city and state legislatures," he said. "The University will benefit if we continue working and speaking regularly with one another, and I look forward to building on that relationship."
Chair of the Academic Policies Committee Jessica Weiss (art history, theory and criticism) provided the second reading of a policy to distinguish the separation of academic policy from other University policy, updating the recommended changes (including clarification of the Faculty Senate's ability to modify academic policy and swapping out "research" for "scholarly activity"), reaffirming curriculum as the domain of the faculty.
After a vote was called for, the measure passed with 73 in favor, one against and seven abstentions. More information on MSU Denver policy, including the searchable policy library, can be found here.
Other items of business included:
Kat Martinez, interim director of the Gender Institute for Teaching and Advocacy, invited faculty members to upcoming Roadrunners First trainings beginning Sept. 14, noting that about 50 percent of students identify as first-generation.
Jeff Loats, professor of physics and director of the Center for Teaching, Learning and Design, updated attendees on the center's recent name change, the hiring of an instructional-accessibility manager and the application deadline to teach Student Centered Active Learning Environment courses.
Makley put out a second call for volunteers to participate on a housing task force working on the development of the Platte River area near campus. He stressed the importance of a faculty voice to address future development plans and how best to serve students; those interested should email Makley and Robyn Sherwood.
Zsuzsa Balogh (civil engineering technologies) provided updates from the Curriculum Committee, including approved proposals of prerequisite modifications to CIS 4050, a new engineering manufacturing certificate English class modification and conversations around the storage of course syllabi (more information forthcoming).
Faculty Senate Vice President Jo Bailey (social work) put out a call for committee participants, including at-large positions for Curriculum, General Studies and Multicultural. Those interested should reach out directly to committee chairs as soon as possible.
Edit this page